SPRO Mc STICK 110 SMS110CSD SUSPENDING #02-CHROME SHAD 3-5ft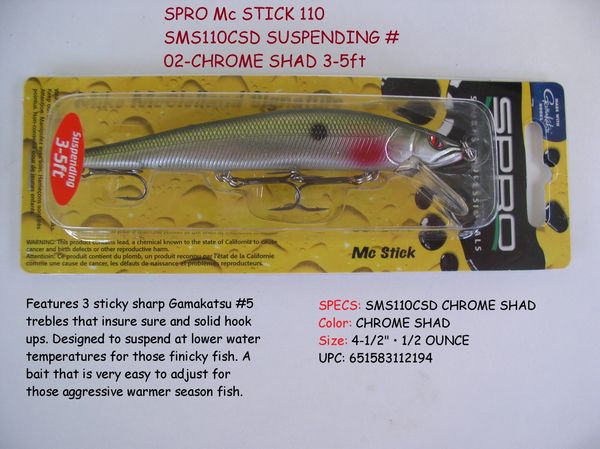 SPRO Mc STICK 110 SMS110CSD SUSPENDING #02-CHROME SHAD 3-5ft
SPRO Mc STICK 110 SMS110CSD SUSPENDING #02-CHROME SHAD 3-5ft
Description

Features 3 sticky sharp Gamakatsu #5 trebles that insure sure and solid hook ups. Designed to suspend at lower water temperatures for those finicky fish. A bait that is very easy to adjust for those aggressive warmer season fish.
SPECS: SMS110CSD CHROME SHAD
Color: CHROME SHAD
Size: 4-1/2" • 1/2 OUNCE
UPC: 651583112194
Great tip using the Spro McStick 110

https://youtu.be/IVGrLlUOlgg

Remember FREE Shipping on orders of $25 or more!