SPRO CRANK BAITS SLJD70CSD LITTLE JOHN JOHN CREWS SIGNATURE BAITS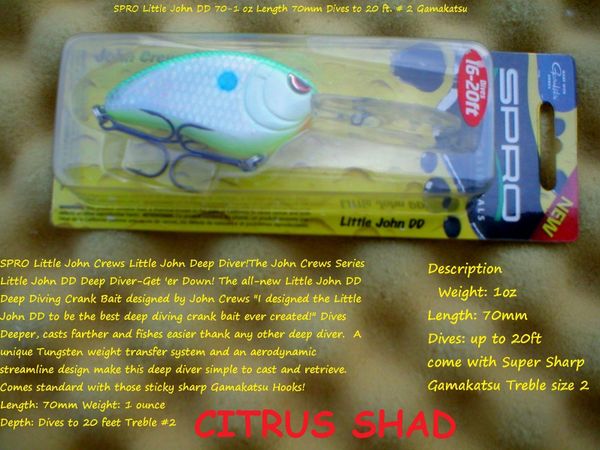 SPRO CRANK BAITS SLJD70CSD LITTLE JOHN JOHN CREWS SIGNATURE BAITS
SPRO CRANK BAITS SLJD70CSD LITTLE JOHN JOHN CREWS SIGNATURE BAITS

Description:

SPRO Little John Crews Little John Deep Diver!The John Crews Series Little John DD Deep Diver-Get 'er Down! The all-new Little John DD Deep Diving Crank Bait designed by John Crews "I designed the Little John DD to be the best deep diving crank bait ever created!" Dives Deeper, casts farther and fishes easier thank any other deep diver. A unique Tungsten weight transfer system and an aerodynamic streamline design make this deep diver simple to cast and retrieve. Comes standard with those sticky sharp Gamakatsu Hooks! UPC:651583112903
Length: 70mm Weight: 1 ounce
Depth: Dives to 20 feet Treble #2
Remember FREE Shipping on orders of $25 or more!