SPRO BRONZEYE JR FROG SBEF60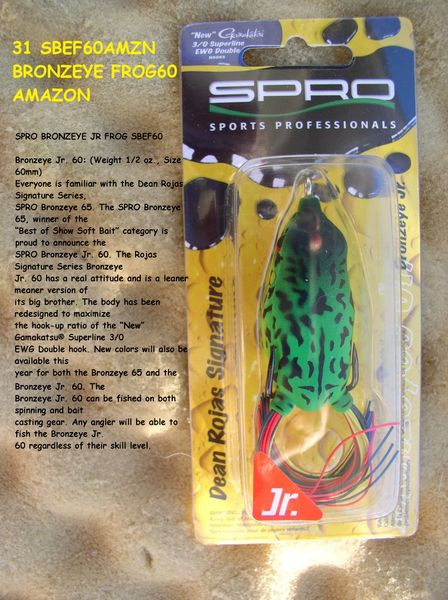 SPRO BRONZEYE JR FROG SBEF60
SPRO BRONZEYE JR FROG SBEF60

Bronzeye Jr. 60: (Weight 1/2 oz., Size 60mm)
UPC:651583114570
Everyone is familiar with the Dean Rojas Signature Series,
SPRO Bronzeye 65. The SPRO Bronzeye 65, winner of the
"Best of Show Soft Bait" category is proud to announce the
SPRO Bronzeye Jr. 60. The Rojas Signature Series Bronzeye
Jr. 60 has a real attitude and is a leaner meaner version of
its big brother. The body has been redesigned to maximize
the hook-up ratio of the "New" Gamakatsu Superline 3/0
EWG Double hook. New colors will also be available this
year for both the Bronzeye 65 and the Bronzeye Jr. 60. The
Bronzeye Jr. 60 can be fished on both spinning and bait
casting gear. Any angler will be able to fish the Bronzeye Jr.
60 regardless of their skill level.