SPORN Ultimate Control Harness Black Nylon, Neoprene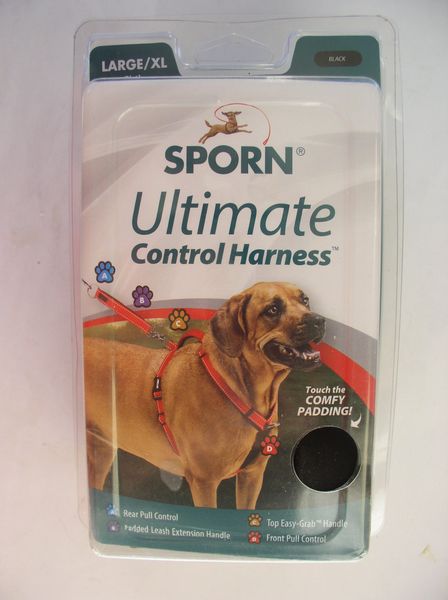 SPORN Ultimate Control Harness Black Nylon, Neoprene
SPORN Ultimate Control Harness Black Nylon, Neoprene
Description

The SPORN Ultimate Control Harness is the latest addition to the SPORN line of patented control products. It's multi-functional design is guaranteed to make walks more enjoyable for you and your dog! Choose from front or rear pull control, or use both simultaneously for extra control and steering. The padded, braided top handle may be used for up-close control in high traffic areas or uncomfortable situations. The Ultimate Control Harness also includes adjustable chest and girth straps, for a comfortable fit, and a detachable leash extension handle. Rear pull control option; Front pull control option; Top, easy-grab handle; Optional, padded extension leash handle; Reflective for safety; Hand washable; Lifetime guarantee from manufacturer (excludes chewing)  UPC:708443101420
ALSO HAVE https://fishingbaitslures.com/products/handmade-cigar-makers-mark-bourbon-650-star-6-x-50-mm650

https://fishingbaitslures.com/products/pet-champion-hunting-camouflage-dog-harness-large-labboxer
Features:
Instructions: Step 1: FIT THE NECK LOOP. Place the fixed neck loop over your dog's head, making sure that the front D ring is on your dog's chest. Both webbing adjusters should be at the same position on each strap to ensure that the harness fits comfortably. Step 2: FIT THE SIDE STRAP. Once the neck loop has been correctly sized, attach the side strap into the side buckle on the top. The soft, plush padding should be against the dog's fur. Adjust the side strap evenly so the neck loop and side straps all have a snug fit on your dog. You should be able to fit two fingers comfortable between the straps and fur. Step 3: ATTACH YOUR LEASH. There are multiple leash attachment options. A) Attach the leash to the front D ring for front control to guide your dog during walks. B) Attach the leash to the back O ring primary leash attachment for rear "SPORN Effect" control. C) To use the optional leash accessory handle, attach the leash to the O ring located on the end of the accessory extension handle. D) Use the optional accessory handle as a leash to keep the dog right at your side. E) Use dual leashes, connected to the front D ring and the back O ring, for extra control and guidance. UPC:708443101420
Fabric Care Instructions: Hand Wash
Specifications:
Animal Type Dog
Pet Size
Small: Girth of 14-24 inches, or 10-30 pounds Medium: Girth of 19.5-32 inches, or 30-65 pounds Large: Girth of 24-40 inches, or over 65 pounds
Brand SPORN
Material Nylon, Neoprene
Assembled Product Weight
12.4 lb
Assembled Product Dimensions (L x W x H)
5.00 x 3.00 x 8.00 Inches
Remember FREE Shipping on orders of $25 or more!