SPIDERWIRE BRAIDED STEALTH SUPERLINE, 300-YARD/10-POUND, MOSS GREEN/VERT FONCE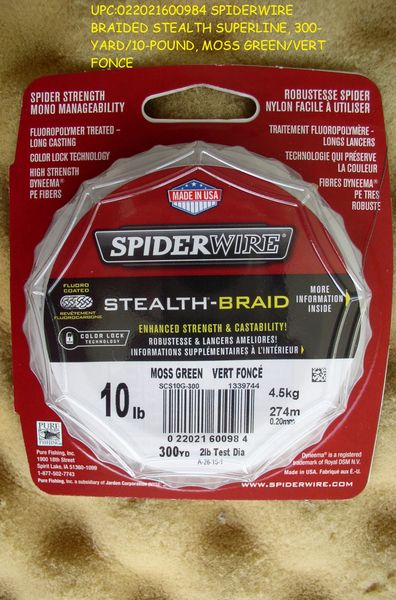 SPIDERWIRE BRAIDED STEALTH SUPERLINE, 300-YARD/10-POUND, MOSS GREEN/VERT FONCE
SPIDERWIRE BRAIDED STEALTH SUPERLINE, 300-YARD/10-POUND, MOSS GREEN/VERT FONCE
FOLLOW ME ON PINTEREST
Typically ships within 1 to 4 Hours!
DESCRIPTION:

SpiderWire Stealth Braid is made from Dyneema, The World's Strongest Fiber! Each size is uniquely constructed to provide the ultimate strength with the thinnest diameter for smooth and quiet performance. The no stretch properties of Dyneema PE fibers provides incredible sensitivity to instantly detect bites and structure.  UPC:022021600984
Features:
Color-Lock coating technology – casts farther, lasts longer
Dyneema PE Microfiber construction is strong, smooth and round
Pressure-treated microfibers – shoots through guides like a bullet!
Whisper quiet for ''Stealth Attacks''
Resists ''diggin in'' on reels
Model:

TD Code Description Spool Color Lb Test Price
SCS06-50G-300
SPW-0037 Stealth Braid 300 yd Spool Moss Green Select Lb Test $26.49 USD
PRICES ARE BASED ON WHAT I PAY + $0.50 PER ITEM, SO PRICES MAY VARY FROM ORDER TO ORDER THANK YOU KEN