Southwire 18 Gauge Thermostat Wire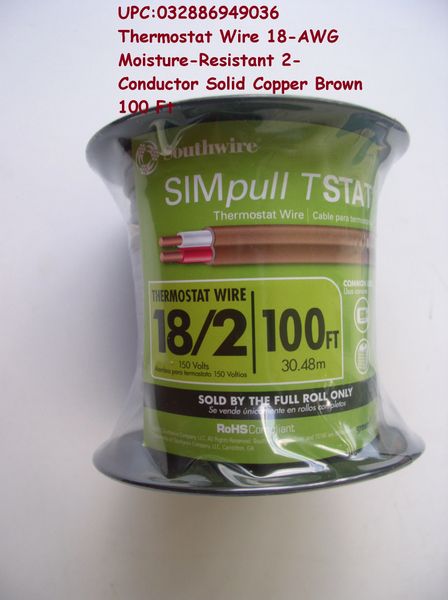 Southwire 18 Gauge Thermostat Wire
Southwire 18 Gauge Thermostat Wire
Thermostat Wire 18-AWG Moisture-Resistant 2-Conductor Solid Copper Brown 100 Ft
 UPC:032886949036, UPC:032886855986
Description
Class 2 power-limited circuit cable for use in thermostat control applications
RoHS Compliant
Sunlight-resistant
Copper conductor colors are red and white
Moisture-resistant plastic insulation
Specifications
Series Name N/A
Sub-Brand N/A
Stranded or Solid Solid
Thermostat Wire Gauge 18
Number of Conductors 2
Conductor Material Copper
Jacket Material Polyvinyl chloride (PVC)
Jacket Color Brown
Volt Rating (Volts) 150.0
UL Safety Listing Yes
CSA Safety Listing No
ETL Safety Listing No
Wire Length (Feet) 100.0
Southwire 50' 18 Gauge Thermostat Wire (64162122)
Description
Wire Length: 50 ft.
Gauge Conductors: 18/2
Cable or Wire Type: Copper
Product Type: Thermostat Wire
Color Family: Brown
Voltage Rating: 150 volts
Direct Burial: Yes
Conductor Material: Copper
Indoor and Outdoor: Outdoor
Outer Color: Brown
Sunlight and or UV Resistant: Sunlight Resistant
Flame Retardant: Yes
Temperature Rating: 90 degree Celsius
Ground Material: Copper
Stranded or Solid: Solid
Jacket Material: Copper
Number of Conductors: 2
UL Listed: Yes
Ground Wire Gauge: 18 Ga.
Conductor Gauge: 18 Ga.
Insulation Material: PVC
PRICES ARE BASED ON WHAT I PAY + $0.50 PER ITEM, SO PRICES MAY VARY FROM ORDER TO ORDER THANK YOU KEN