SNAG PROOF #6021 SPIN FROG FOR BASS, PIKE GREEN PUMPKIN COLOR .25 OZ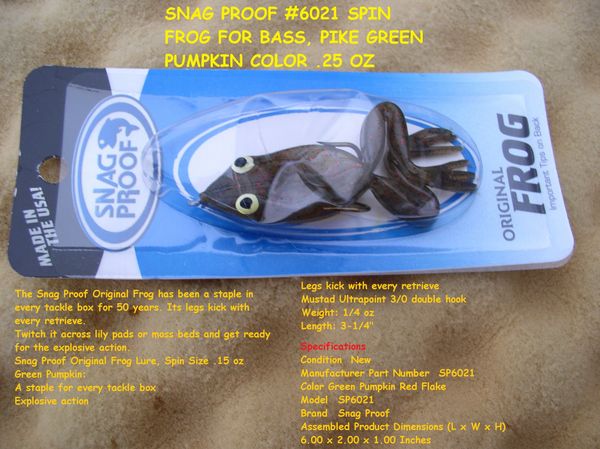 SNAG PROOF #6021 SPIN FROG FOR BASS, PIKE GREEN PUMPKIN COLOR .25 OZ
SNAG PROOF #6021 SPIN FROG FOR BASS, PIKE GREEN PUMPKIN COLOR .25 OZ

Description
The Snag Proof Original Frog has been a staple in every tackle box for 50 years. Its legs kick with every retrieve.
Twitch it across lily pads or moss beds and get ready for the explosive action.
Snag Proof Original Frog Lure, Spin Size .15 oz
UPC:029362060217

A staple for every tackle box
Explosive action
Legs kick with every retrieve
Mustad Ultrapoint 3/0 double hook
Weight: 1/4 oz
Length: 3-1/4"
Specifications

Condition New
Manufacturer Part Number SP6021
Color Green Pumpkin Red Flake
Model SP6021
Brand Snag Proof
Assembled Product Dimensions (L x W x H)
6.00 x 2.00 x 1.00 Inches
Remember FREE Shipping on orders of $25 or more!