SMITHWICK FLOATING RATTLIN' ROGUE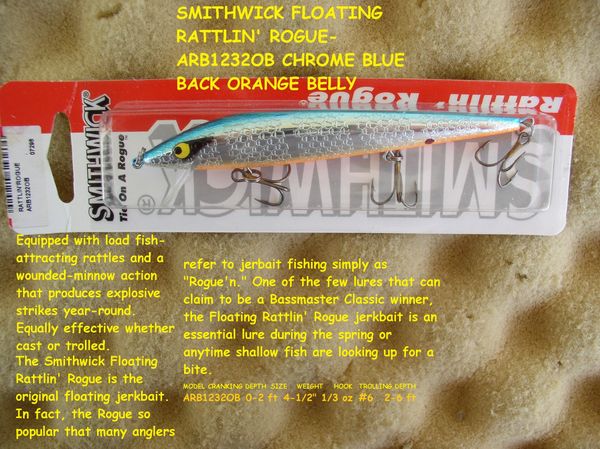 SMITHWICK FLOATING RATTLIN' ROGUE
SMITHWICK FLOATING RATTLIN' ROGUE
Description:
The Smithwick Floating Rattlin' Rogue is the original floating jerk bait. In fact, the Rogue so popular that many anglers refer to jerk bait fishing simply as "Rogue'n." One of the few lures that can claim to be a Bass master Classic winner, the Floating Rattlin' Rogue jerk bait is an essential lure during the spring or anytime shallow fish are looking up for a bite.
UPC:049575412429

MODEL CRANKING DEPTH SIZE WEIGHT HOOK TROLLING DEPTH
ARB1232OB 0-2 ft 4-1/2" 1/3 oz #6 2-6 ft
Smithwick Suspending Rattling Rogue HowTo
Remember FREE Shipping on orders of $25 or more!