SMITHWICK DEVIL'S HORSE AF109 TOP WATER PERCH GOOD FOR PRES PAWNING FISH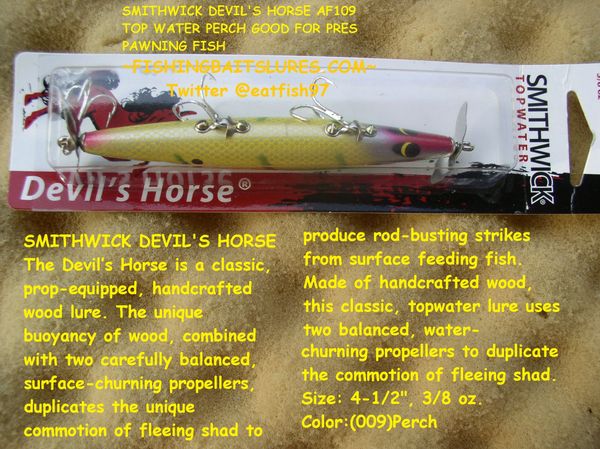 SMITHWICK DEVIL'S HORSE AF109 TOP WATER PERCH GOOD FOR PRES PAWNING FISH
SMITHWICK DEVIL'S HORSE AF109 TOP WATER PERCH GOOD FOR PRES PAWNING FISH

Smithwick Devil's Horse

Description:
Few top water prop baits are as legendary as the Smithwick Devil's Horse. The unique buoyancy of handcrafted wood combined with the props fore and aft mimics the commotion of a fleeing shad and make it one of the most effective bass top waters in history. The Smithwick Devil's Horse creates tremendous top water commotion with each twitch of the rod, but the props keep it from moving away from the strike zone.
UPC:049575100098

Cranking Depth:Topwater
Color: Perch
Hooks:#6
Lure Weight:3/8oz
Length 4 1/2in
Smithwick Devils Horse HowTo
Remember FREE Shipping on orders of $25 or more!