SHURFLO ON DEMAND DIAPHRAGM PUMP 12 VOLT 1.8 GPM, 60 PSI #8007-593-836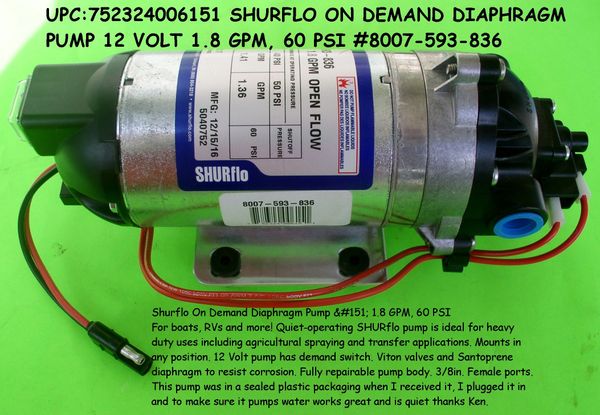 SHURFLO ON DEMAND DIAPHRAGM PUMP 12 VOLT 1.8 GPM, 60 PSI #8007-593-836
SHURFLO ON DEMAND DIAPHRAGM PUMP 12 VOLT 1.8 GPM, 60 PSI #8007-593-836
Description:

Shurflo On Demand Diaphragm Pump — 1.8 GPM, 60 PSI
For boats, RVs and more! Quiet-operating SHURflo pump is ideal for heavy duty uses including agricultural spraying and transfer applications. Mounts in any position. 12 Volt pump has demand switch. Viton valves and Santoprene diaphragm to resist corrosion. Fully repairable pump body. 3/8in. Female ports. This pump was in a sealed plastic packaging when I received it, I plugged it in and to make sure it pumps water works great and is quiet thanks Ken. UPC:752324006151
MORE ELECTRICAL / DEVICES FROM LAND OF LURES   

MODEL 8007-593-836
Delivers 60 PSI and up to 1.8 GPM
Head: 6ft.
Lift: 5ft.
Length: 8 1/4 in.
Width of Base: 4in.
Mounting Base: 2 1/4in. x 3.20in. Wide
Maximum Amps at Shut Off: 7.3
Permanent Magnet 12V Motor
Temperature Capacity: 170 Degrees F
Self Priming Up to 5 Vertical Feet
Maximum Inlet Pressure: 30 PSI
Polypropylene Construction
Chemical Corrosion Resistant
Fully Repairable Pump Body
Says on pump:
Note: This pump can not be used with flammable liquids
Ship Wt. 4.9 lbs
CALL 1-980-329-7503 WITH ANY OF YOUR QUESTIONS
Remember FREE Shipping on orders of $25 or more!