SHARK RIG 3 FOOT X 300 POUND MAIN LINE, WITH 6 INCH 300 POUND LEADERS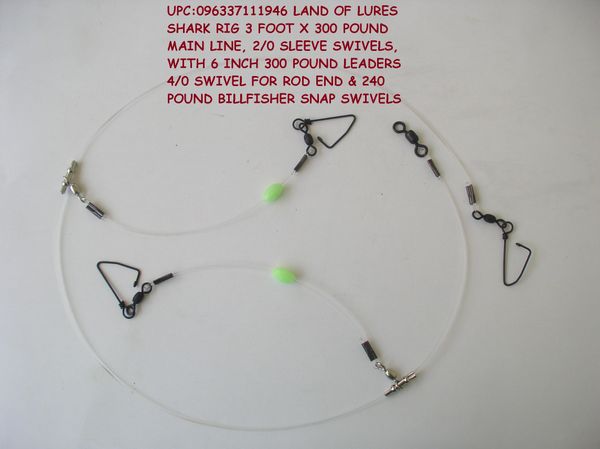 SHARK RIG 3 FOOT X 300 POUND MAIN LINE, WITH 6 INCH 300 POUND LEADERS
SHARK RIG 3 FOOT X 300 POUND MAIN LINE, WITH 6 INCH 300 POUND LEADERS

Description:

Spend less time rigging and more time catching with LAND OF LURES Made to Order Shark Rig 3 Foot X 300 Pound Main Line, With 6 Inch 300 Pound Leaders, 2/0 Sleeve Swivels, 4/0 Swivel For Rod End & 240 Pound BILLFISHER Snap Swivels  
Hooks not sold with this rig you need to let me know what hook you want thanks Ken.
This RIG can be ordered using Titanium Wire ask about price !
UPC:096337016814, UPC:096337111946, UPC:818078013705, UPC:726439830475 
IF YOU HAVE ANY QUESTIONS OR NEED A RIG TO FIT YOUR NEED CALL/TEXT ME AT (980) 329-7503
Remember FREE Shipping on orders of $25 or more!