SCIENTIFIC ANGLERS MASTERY CUSTOM TAPER PROFESSIONAL TEXTURE FLY FISHING LINE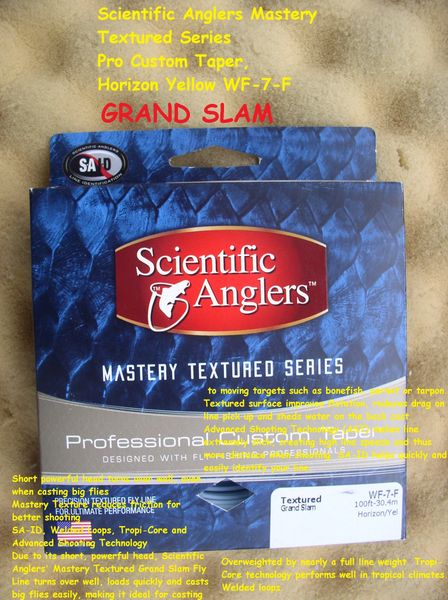 SCIENTIFIC ANGLERS MASTERY CUSTOM TAPER PROFESSIONAL TEXTURE FLY FISHING LINE
SCIENTIFIC ANGLERS MASTERY CUSTOM TAPER PROFESSIONAL TEXTURE FLY FISHING LINE
Description
WF-7-F
Scientific Anglers Mastery Textured Series Pro Custom Taper, Horizon Yellow
Short powerful head turns over well, even when casting big flies
Mastery Texture reduces friction for better shooting
SA-ID, Welded Loops, Tropi-Core and Advanced Shooting Technology

Due to its short, powerful head, Scientific Anglers' Mastery Textured
Grand Slam Fly Line turns over well, loads quickly and casts big flies easily,
making it ideal for casting to moving targets such as bonefish, permit or tarpon.
Textured surface improves flotation, reduces drag on line pick up and sheds
water on the back cast. Advanced Shooting Technology (AST) makes line
extremely slick, creating high line speeds and thus more distance when shooting.
SA-ID helps quickly and easily identify your line. Overweighted by nearly a full line weight.
Tropi-Core technology performs well in tropical climates. Welded loops.
UPC# 840309117753