Scientific Angler Forward Green Weighted Air Cell Fly Line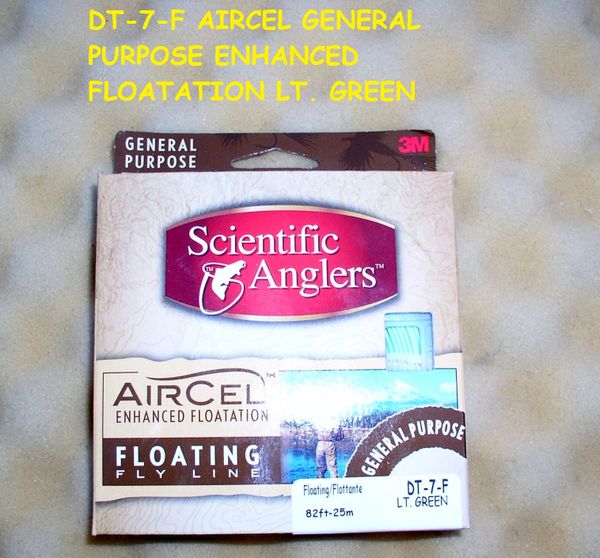 Scientific Angler Forward Green Weighted Air Cell Fly Line
Scientific Anglers AirCell Fly Line Weighted Froward Green
FOLLOW ME ON TWITTER 
Description:
expendable flotation and durability
Low memory for all weather conditions
WF Taper: Mid-length head for general fishing situations
Core: Braided multifilament nylon
3M PVC coating formulated with special internal lubricants to increase slickness and enhance shoot ability. The 3M PVC coating is formulated with special internal lubricants to increase slickness and enhance shoot ability, and includes integrated UV inhibitors for increased durability. The WF taper is a mid-length head for general fishing conditions.  UPC:021200153075, UPC:840309112741, UPC:021200152955

Manufacturer: Scientific Anglers
Model: 153075

UPC:021200153075, UPC:840309112741, UPC:021200152955
 Scientific Anglers AirCel Floating Trout Fly Line-5/6-Green
Description:
Scientific Anglers Aircel Floating Trout Fly Line-5/6-green - 112741 UPC: 840309112741 Mfg Part#: 112741 Vendor: Scientific Anglers SKU#: 4012749
This Air Cel species specific line is a designed for trout fishing with a 5 or 6 weight rod. This is a simple, weight forward floating line with a front loop. It has a braided multifilament core and is designed for most fly presentations. This line provides a head length of 40 feet and a total length of 80 feet.
Remember FREE Shipping on orders of $25 or more!