SAVAGE GEAR #BSS-100 DG 4 INCH DARK BLUE GILL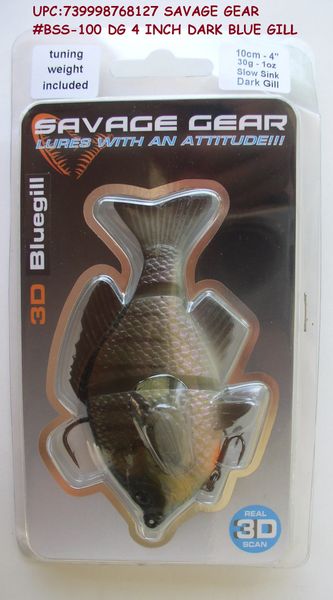 SAVAGE GEAR #BSS-100 DG 4 INCH DARK BLUE GILL
SAVAGE GEAR #BSS-100 DG 4 INCH DARK BLUE GILL
Description:

Bass will strike like never before when using the Savage Gear Bluegill Soft Bait Lure. Bluegill are a meal favorite of bass, often times making their way into bass nesting areas. A 3D scan of an actual bluegill helped in the design in the lure, resulting in a lifelike action and detailed finish that bass will not be able to resist. Complete with top and bottom treble hooks, the Savage Gear Bluegill is sure to land you a trophy fish. UPC:739998768127, UPC:739998768134, UPC:739998768110
FEATURES:
Based on the design of a real bluegill for detail
Realistic coloring
True to life action
Top and bottom treble hooks
SPECS:
Model: BSS-100
Length: 4 in.
Weight: 1 oz.
Buoyancy: Slow Sinking
PRICES ARE BASED ON WHAT I PAY + $0.50 PER ITEM, SO PRICES MAY VARY FROM ORDER TO ORDER THANK YOU KEN