SABIKI #S002AE #SABIKI #RIG SALTWATER HOT HOOKS SET,HAGE-KAWA,RED 6HK#6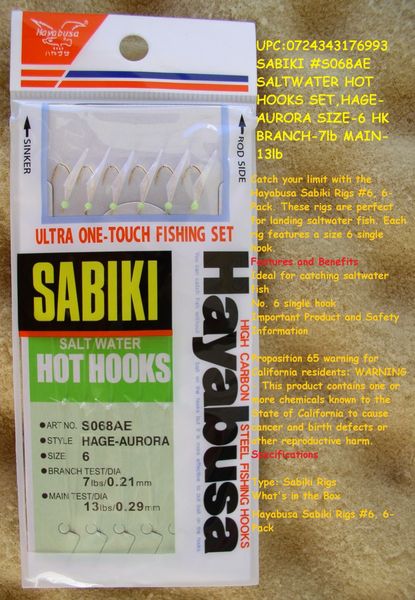 SABIKI #S002AE #SABIKI #RIG SALTWATER HOT HOOKS SET,HAGE-KAWA,RED 6HK#6
SABIKI #S002AE #SABIKI #RIG SALTWATER HOT HOOKS SET,HAGE-KAWA,RED 6HK#6
Offshore Angler Size 10 Flash N' Skin Sabiki Rigs
Offshore Angler Size 12 Mix Ultraskin Sabiki Rigs

FOLLOW ME ON TWITTER
Features 
SIZE-6 7-LB LEADS MAIN LINE 13 LB
SIZE-12 20-LB LEADS MAIN LINE 30 LB

How to Catch fish with SABIKI.To catch fish such as mackerel, herring, smelt and Spanish mackerel, use a 6 to 9-hoot light action rod with a spinning reel. 
How to: Catching baitfish on Sabiki rigs - https://youtu.be/gAswsM2g5Zo

Tie the SABIKI rig to the line and attach a chum cage to the end.The best chum is frozen krill, but when it is unavailable, try minced squid or possibly pet food. Remember to use plenty of chum at all times. Quickly drop the rig into the water to the depth of the school of fish. Slowly lift up the rod tip, allowing the chum to scatter downward; then rapidly lower the rig into the now dispersed chum and into the mouths of the frenzied fish below. Repeat this motion several times. If you still do not get hit, reel in your line, refill the chum cage and try again. Once you have a fish on, remember to wind up the line slowly in order to prevent tearing the hook from the fish's mouth, as well as to retrieve more fish. This slow reeling in of the line is the key to successful SABIKI fishing.Hayabusa also offers SABIKI lures for larger game fish, such as yellow tail, halibut, barracuda, bonito, sea bass, grouper and rock fish. To catch yellow tail, barracuda, bonito and sea bass, attach our modified chum cage filled with whole shrimps or small squid on top of the SABIKI rig. Let the rig drift in the current until you experience a hook up. For bottom fish rigs, specifically dressed hooks can be enhanced with various cut bait.Whatever type of fish you chose, Hayabusa offers the most complete selection of SABIKI lures!

UPC:0724343176757, UPC:0724343176993, UPC:0724343174500, UPC:033348975929, UPC:033348975905, UPC:0724343188460, UPC:0724343185971, UPC:837508000382, UPC:0724343174517, UPC:0724343174418, UPC:0724343174395, UPC:0724343174388

How to use a Sabiki rig to catch bait 
Surf Fishing with Sabiki Rigs?! 

Includes:
One pack Has six treble hooks & six tubes with 12 lb line
PRICES ARE BASED ON WHAT I PAY + $0.50 PER ITEM, SO PRICES MAY VARY FROM ORDER TO ORDER THANK YOU KEN
RIVER HWY 150 BRIDGE is a place fish anglers hang around.
The next time fishing is slow, try casting your bait around one of Lake Norman's 20 or more bridges. That is where bass, crappie and striper fishermen go when they want to catch a quick limit.

The N.C. 150 bridge is arguably the most popular with local anglers. One of the big reasons is its proximity to the lake-access boat ramps at Pinnacle, McCrary and Midway. But, more important, the bridge is large enough to afford shade, cover and food for anything with gills. Add to that the fact that the deep water in the Catawba River channel flows below it – and you have a perfect fish habitat. While bass are the primary fish targeted, the N.C. 150 bridge is also a gathering place for anglers who fish for crappie, perch, catfish and stripers.

Crank, swim and spinner baits are productive when bass are suspended; soft plastics are lures of choice when fishing along the causeway and bases of bridge pilings. Savvy anglers also keep a top-water lure ready to throw at schooling bass that surface feed from time to time throughout the day. Non-tournament fishermen often use live shad and minnows.

Over the years, thousands upon thousands of crappie have been taken from underneath the N.C. 150 bridge. Today's fish finders make it easy to locate the depth at which they're feeding. Once determined, all you have to do is lower a minnow or jig to that depth and wait for a bite. White perch are a nuisance to crappie fishermen, since they suspend and feed at similar depths. But, for those who target perch, spoons and Sabiki rigs are the baits of choice.

Big blues and flathead catfish lie beneath the bridge and wait for the next meal to float their way. Anglers who fish for large catfish use heavy tackle and a variety of baits to lure them to the hook. While live and fresh-cut bream and perch are popular baits, many anglers prefer to fish with chicken parts, stink-baits, mussels and shrimp.

If there is anything negative about fishing around the N.C.150 bridge, it is the amount of boat traffic and wakes. To avoid the disturbances, some anglers only fish early morning or at night when the lake is quiet. While night fishing requires different techniques, the results can be very rewarding. In fact, some say fish are bigger and easier to catch at night.

The N.C. 150 bridge might be the most popular, but there are other bridges that produce just as many fish per angler. Upriver, the Interstate 40, U.S. 70, and railroad trestle bridges are bass-angler favorites, while the Buffalo Shoals Road bridge is a good after-dark spot for crappie and catfish.

Down river, the Perth Road bridge near Stumpy Creek Boat Access and the Williamson Road bridge that crosses Reed Creek are heavily fished by bass and crappie anglers.