RUSTY'S #33195 RUSTYS WOUNDED RED BLOOD SHAD FISHING PREPAID BAIT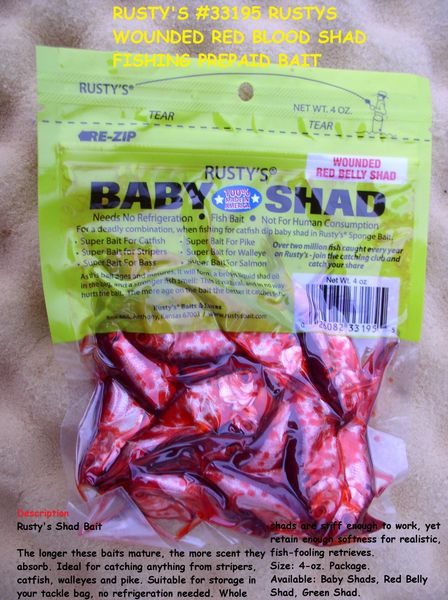 RUSTY'S #33195 RUSTYS WOUNDED RED BLOOD SHAD FISHING PREPAID BAIT
RUSTY'S #33195 RUSTYS WOUNDED RED BLOOD SHAD FISHING PREPAID BAIT
FOLLOW ME ON TWITTER
Typically ships within 1 to 4 Hours!
Description:

Rusty's Shad Bait
The longer these baits mature, the more scent they absorb. Ideal for catching anything from stripers, catfish, walleyes and pike. Suitable for storage in your tackle bag, no refrigeration needed. Whole shads are stiff enough to work, yet retain enough softness for realistic, fish-fooling retrieves. UPC:029362060217, UPC:026082331900
Size: 4-oz. Package.
Available: Baby Shads, Red Belly Shad, Green Shad.
How To Bait A Hook With Cut Shad (Cut Bait)
Remember FREE Shipping on orders of $25 or more!