Rockwell Power Tools Universal End Cut Blade Set (6-Pack) #RW8981K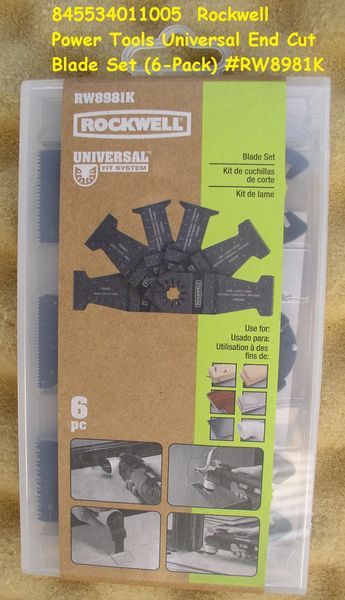 Rockwell Power Tools Universal End Cut Blade Set (6-Pack) #RW8981K
Rockwell Power Tools Universal End Cut Blade Set (6-Pack) #RW8981K
FOLLOW ME ON TWITTER
Typically ships within 1 to 4 Hours!
Description

Price is per EA.
Includes 2 each: Precision wood end cut blade for aggressive plunge cutting in wood; standard wood end cut blade for general purpose cutting; and bi-metal-metal/wood end cut blade for cutting up to 1-5/8" depth on wood, plastics, drywall, fiberglass, nails, non-ferrous metals, thin sheet metal and hardened fillers. 1-3/8" blades. Universal fit system allow accessory to fit all major brand oscillating tools.  UPC:845534011005
Oscillating Tool Accessories
End Cut Blade Set - 6 Piece
Universal Fit
"Sonicrafter"
PRICES ARE BASED ON WHAT I PAY + $0.50 PER ITEM, SO PRICES MAY VARY FROM ORDER TO ORDER THANK YOU KEN