RIVER2SEA LARRY DAHLBERG SERIES WHOPPER PLOPPER BONE 5 in. #WPL130/14-BONE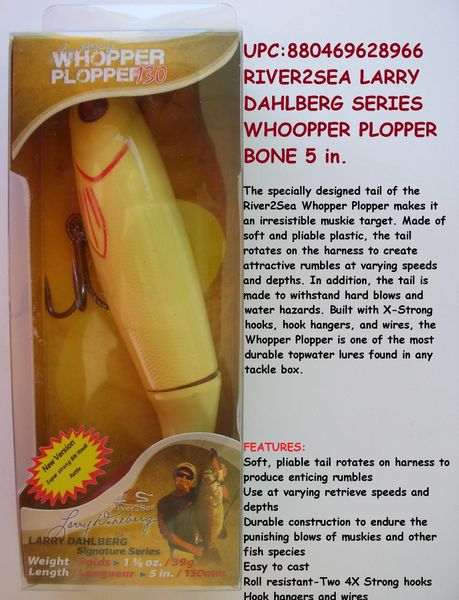 RIVER2SEA LARRY DAHLBERG SERIES WHOPPER PLOPPER BONE 5 in. #WPL130/14-BONE
RIVER2SEA LARRY DAHLBERG SERIES WHOPPER PLOPPER BONE 5 in. #WPL130/14-BONE
Description

The specially designed tail of the River2Sea Whopper Plopper makes it an irresistible muskie target. Made of soft and pliable plastic, the tail rotates on the harness to create attractive rumbles at varying speeds and depths. In addition, the tail is made to withstand hard blows and water hazards. Built with X-Strong hooks, hook hangers, and wires, the Whopper Plopper is one of the most durable topwater lures found in any tackle box. UPC:880469628966, UPC:880469245606, UPC:880469230053, UPC:880469628959

MORE RIVER2SEA LURES FROM LAND OF LURES    
The brand new Whopper Plopper 110 completes the Plopper family. Serving as the missing link between the 130 and 90 versions, the 110 produces the same eye-catching, water churning action that lurking predators just can't resist. Promising to be one of the most popular baits this year, don't be caught without a Whopper Plopper 110.
Whopper Plopper Tricks with EPIC Underwater Footage! 

FEATURES:
Soft, pliable tail rotates on harness to produce enticing rumbles
Use at varying retrieve speeds and depths
Durable construction to endure the punishing blows of muskies and other fish species
Easy to cast
Roll resistant
Two 4X Strong hooks
Hook hangers and wires
90 style is ideal for topwater fishing in high pressure situations
Designed by legendary angler Larry Dahlberg
Product images reflect colors and do not show size differentials
SPECS:
Model: WPL190
Length: 7 1/2 in.
Weight: 2 3/4 oz.
Hooks: Long Shank 4X Strong #5/0
Model: WPL130
Length: 5 in.
Weight: 1 3/8 oz.
Hooks: 4X Strong Treble #2
Model: WPL110
Length: 4 3/8 in.
Weight: 3/4 oz.
Hooks: 4X Strong Treble #2
Model: WPL90
Length: 3 1/2 in.
Weight: 1/2 oz.
Hooks: 4X Strong Treble #2
Brand: River2Sea
Country of Origin: Imported
Style: WPL
Web ID:15R2SUR2SWHPPRPLPLUR
★★★★★ 4.5 out of 5 stars. Read reviews.  4.5 70 Reviews This action will navigate to reviews.
ALSO HAVE 
https://plus.google.com/115279368777770467728/posts/DePKVKNChwb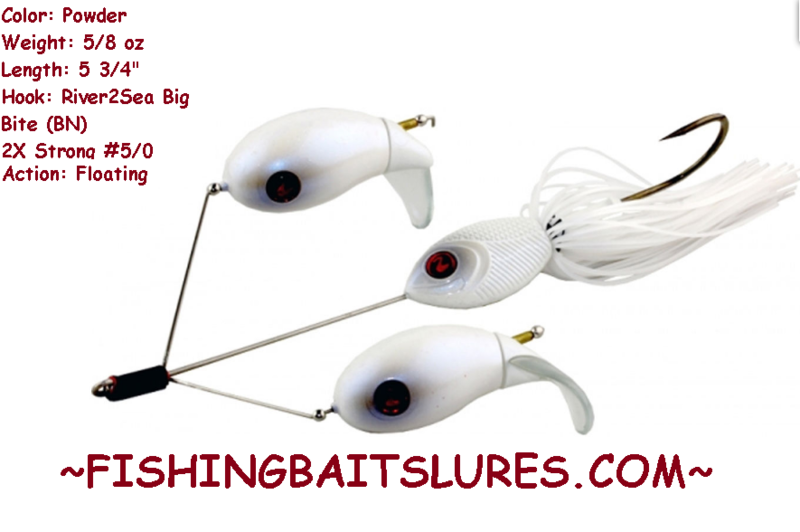 Remember FREE Shipping on orders of $25 or more!