RIO MAINSTREAM SERIES BASS FLY LINE WEIGHT FORWARD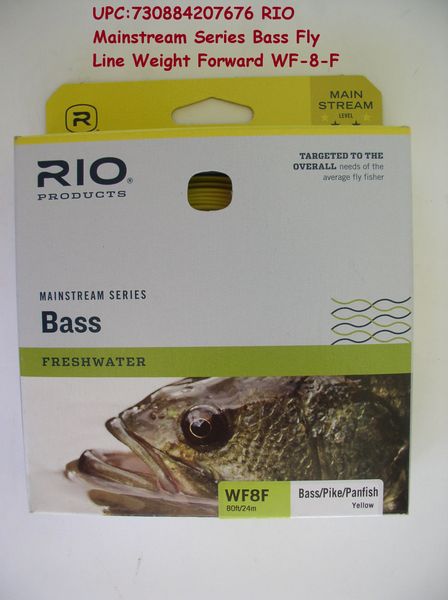 RIO MAINSTREAM SERIES BASS FLY LINE WEIGHT FORWARD
RIO MAINSTREAM SERIES BASS FLY LINE WEIGHT FORWARD
Description:

UPC:730884207676, UPC:730884207690, UPC:730884207508, UPC:730884207492, UPC:730884207522
Slightly heavier weight for easy casting
Warm-water coating keeps line performing flawlessly
Heavier head weight optimizes rod performance
With a warm-water coating and memory-free core, Rio's Mainstream Series Bass Fly Line performs like new over seasons of use. Slightly heavier weight makes casting a breeze. A short, powerful taper aids turnover and allows you to make perfect presentations.
Taper Type Line Weight Line Weight (gr) Line Type Sink Type Sink Rate Head Length Line Color
Weight Forward WF-6-F 210 grains Sink Tip Float Float 35 feet Yellow
Weight Forward WF-8-F 150 grains Full Sink Float Float 35 feet Yellow
RIO MAINSTREAM TROUT DOUBLE TAPER FLY LINE LEMON GREEN 4 LINE WT.

Description:
The RIO Mainstream Trout Double Taper Fly Line is designed to meet the overall needs of the average and novice fly fisher. It optimizes rod performance with slightly heavier and shorter head lengths. Manufactured with rigorous production standards and quality control, each floating fly line is built with a slick coating on a supple, memory-free core for optimal cold-water performance. UPC:730884207508
W4F - The Fly Fishing Show, Somerset, NJ 2017   

Slightly heavier than standard lines
Easy loading
Supple, memory-free core
Slick cold-water coating