RATTLIN RAPALA RNR RATTLE FISHING BAIT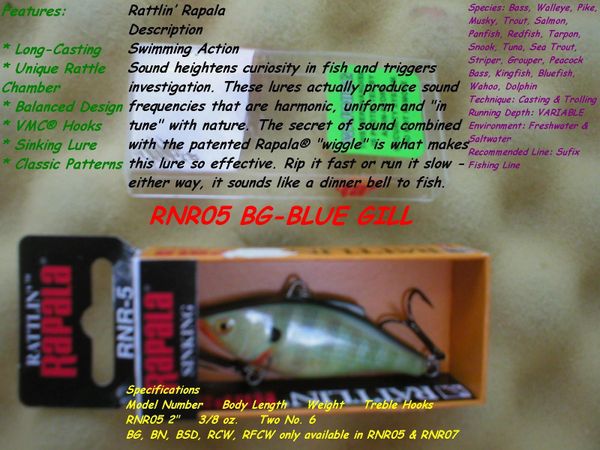 RATTLIN RAPALA RNR RATTLE FISHING BAIT
RATTLIN RAPALA RNR RATTLE FISHING BAIT
FOLLOW ME ON TWITTER 
Rattlin' Rapala
Description
Sound heightens curiosity in fish and triggers investigation. These lures actually produce sound frequencies that are harmonic, uniform and "in tune" with nature. The secret of sound combined with the patented Rapala "wiggle" is what makes this lure so effective. Rip it fast or run it slow - either way, it sounds like a dinner bell to fish. 
UPC:022677116549, UPC:022677116587, UPC:022677116594, UPC:022677116556, UPC:022677086262, UPC:022677009421

Features:
* Long-Casting
* Unique Rattle Chamber
* Balanced Design
* VMC Hooks
* Sinking Lure
* Classic Patterns
MORE RATTLE BAITS FROM LAND OF LURES  
Species: Bass, Walleye, Pike, Musky, Trout, Salmon, Pan fish, Red fish, Tarpon, Snooker, Tuna, Sea Trout, Stripper, Grouper, Peacock Bass, King fish, Bluefish, Wahoo, Dolphin
Technique: Casting & Trolling
Running Depth: 4' - 8'
Environment: Freshwater & Saltwater
Recommended Line: Sufix Fishing Line

Specifications
Model Number    Body Length    Weight    Treble Hooks
RNR04
    1-1/2"    3/16 oz.    Two No. 7    -
RNR05
    2"    3/8 oz.    Two No. 6    BG, BN, BSD, RCW, RFCW only available in RNR05 & RNR07
RNR07
    2-3/4"    1/2 oz.    Two No. 4    BG, BN, BSD, RCW, RFCW only available in RNR05 & RNR07
RNR08
    3-1/8"    3/4 oz.    Two No. 3
Remember FREE Shipping on orders of $25 or more!