RAPALA XRSB-9 SUB WALK FISHING LURE WITH WALK THE DOG / SUB-SURFACE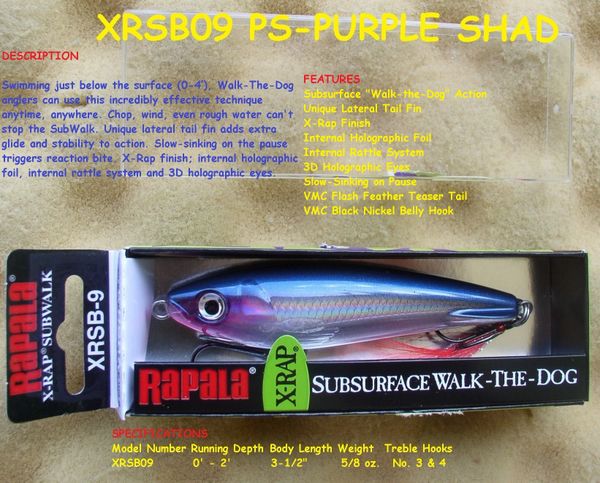 RAPALA XRSB-9 SUB WALK FISHING LURE WITH WALK THE DOG / SUB-SURFACE
RAPALA XRSB-9 SUB WALK FISHING LURE WITH WALK THE DOG / SUB-SURFACE

Description
For the first time, apply the walk-the-dog style technique below the water surface. Twelve color patterns and a VMC Sure Set feather tail hook complete the look. Cast it out, let it sink and get ready to see the X-Rap attitude of this rebel of the water come to life. Begin twitching your rod tip and watch the X-Rap Sub walk dive into sub-surface hunting mode but don't relax, because you're in for one exciting day on the water.
UPC:022677146157, UPC:022677146089, UPC:022677146164, UPC:022677146126, UPC:022677146102, UPC:022677166858, UPC:022677146171

Features:
* All Sizes Run 0-4 feet
* X-Rap Finish
* Internal Holographic Foil
* Unique Lateral Tail Fin
* 3D Holographic Eye
* Slow Sinking on Pause
* VMC Sure Set Flash Feather Teaser Tail
* VMC Black Nickel Belly Hook

Species:
Bass, Walleye, Pike, Musky, Trout, Salmon, Pan fish, Red fish,
Tarpon, S nook, Tuna, Sea Trout, Stripper, Grouper, Peacock
Bass, King fish, Bluefish, Wahoo, Dolphin
Technique: Casting / Subsurface "Walk The Dog"
Running Depth: 0' - 4'
Environment: Freshwater & Saltwater
Recommended Line: Sufix Fishing Line

* X-Rap® Sub Walk 07
* X-Rap® Sub Walk 15

Specifications
Model Number Body Length Weight Treble Hooks
XRSB07
New 2-3/4" 3/8 oz. No. 5 & 6
XRSB09
3-1/2" 5/8 oz. No. 3 & 4
XRSB15
6" 2 oz. No. 2/0 & 1/0
Remember FREE Shipping on orders of $25 or more!