RAPALA X-RAP FRESH WATER CRANK BAIT XR10 CRANKBAIT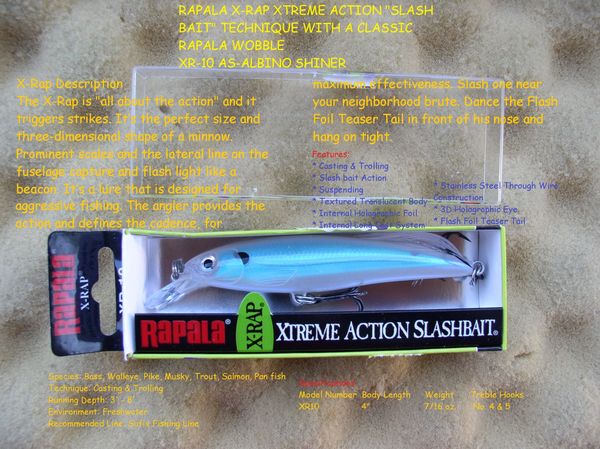 RAPALA X-RAP FRESH WATER CRANK BAIT XR10 CRANKBAIT
RAPALA X-RAP FRESH WATER CRANK BAIT XR10 CRANKBAIT
FOLLOW ME ON TWITTER
Typically ships within 1 to 4 Hours!

X-Rap Description
The X-Rap is "all about the action" and it triggers strikes. It's the perfect size and three-dimensional shape of a minnow. Prominent scales and the lateral line on the fuselage capture and flash light like a beacon. It's a lure that is designed for aggressive fishing. The angler provides the action and defines the cadence, for maximum effectiveness. Slash one near your neighborhood brute. Dance the Flash Foil Teaser Tail in front of his nose and hang on tight.
UPC:022677193779, UPC:022677193786, UPC:022677115559, UPC:022677115573
How to use - Rapala X-Rap
How To Fish The Rapala X-Rap | Mystery Tackle Box
Features:

* Casting & Trolling
* Slash bait Action
* Suspending
* Textured Translucent Body
* Internal Holographic Foil
* Internal Long-Cast System
* Stainless Steel Through Wire Construction
* 3D Holographic Eye
* Flash Foil Teaser Tail
Species: Bass, Walleye, Pike, Musky, Trout, Salmon, Pan fish
Technique: Casting & Trolling
Running Depth: 4' - 6'
Environment: Freshwater
Recommended Line: Sufix Fishing Line
Specifications
Model Number    Body Length    Weight    Treble Hooks
XR10                   4"               7/16 oz.       No. 4 & 5
PRICES ARE BASED ON WHAT I PAY + $0.50 PER ITEM, SO PRICES MAY VARY FROM ORDER TO ORDER THANK YOU KEN