RAPALA TWITCHIN RAP TWR-8 GFL-GOLDEN FLASH FISHING LURE 3-1/2 X 3/8oz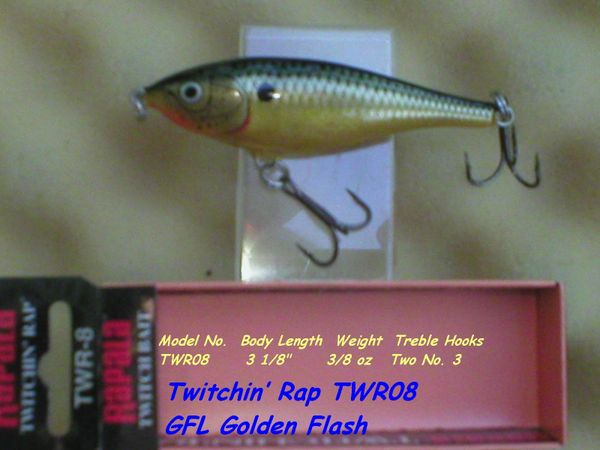 RAPALA TWITCHIN RAP TWR-8 GFL-GOLDEN FLASH FISHING LURE 3-1/2 X 3/8oz
RAPALA TWITCHIN RAP TWR-8 GFL-GOLDEN FLASH FISHING LURE 3-1/2 X 3/8oz

Description

Back to our roots with balsa wood construction for the world-famous delicate Rapala wobble. Weighted for long casting with a running depth of 6 inches to 2 feet, the Twitchin' Rap can be fished virtually anywhere. With its near neutral buoyancy in saltwater, fish strike at or right after the pause. Slow-sinking in freshwater for a struggling, wounded-minnow action. Available in pro-selected colors and strike-triggering patterns. Backwater snook and redfish have found the Twitchin' Rap to be undeniable.
UPC:022677135861

Features

* Balsa Construction
* Twitchin' Action
* Suspending
* Long-Casting
* Shallow Running
* Painted Eye
* VMC Black Nickel Pyramid Point Hooks
Species: Bass, Walleye, Pike, Musky, Trout, Salmon, Panfish, Redfish, Tarpon, Snook, Tuna, Sea Trout, Striper, Grouper, Peacock Bass, Kingfish, Bluefish, Wahoo, Dolphin
Technique: Casting
Running Depth: 0.5' - 2'
Environment: Freshwater & Saltwater
Recommended Line: Sufix Fishing Line
Specifications

Model Number Body Length Weight Treble Hooks
TWR08 3-1/8" 3/8 oz. Two No. 3
Remember FREE Shipping on orders of $25 or more!
If you are a collector, please note: Lures are mint and unfished, some boxes may not be perfect, lids may have small scratches, etc.