RAPALA SKITTER WALK (SW08) BG-BLUE GILL (3 1/8 X 7/16oz)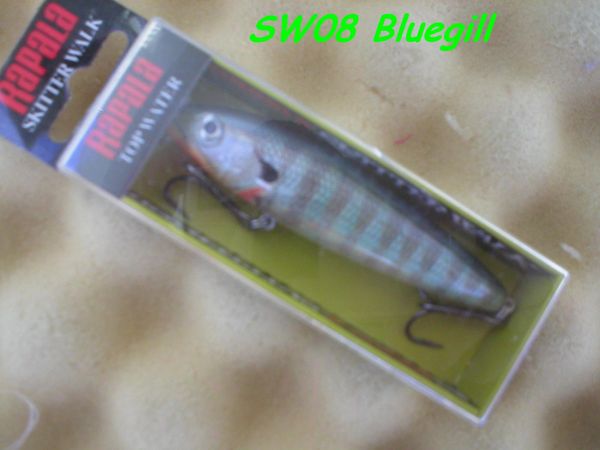 RAPALA SKITTER WALK (SW08) BG-BLUE GILL (3 1/8 X 7/16oz)
RAPALA SKITTER WALK (SW08) BG-BLUE GILL (3 1/8 X 7/16oz)
FOLLOW ME ON TWITTER
Typically ships within 1 to 4 Hours!
Description:
Topwater "walk-the-dog" perfection. The Skitter Walk's large internal rattle creates a rhythmic side-to-side motion and sound combination that drives fish crazy. Pump. Reel. Pump. Reel. Pump. Hang on!
UPC:022677086422

Features:

* Rapala "Walk-The-Dog" Action
* Weighted Tail
* Realistic Eyes
* Classic and Bleeding Patterns
* Plastic Body
* VMC Black Nickel Pyramid Point Hooks
Species: Bass, Walleye, Pike, Musky, Trout, Salmon, Panfish, Redfish, Tarpon, Snook, Tuna, Sea Trout, Striper, Grouper, Peacock Bass, Kingfish, Bluefish, Wahoo, Dolphin
Technique: Casting
Running Depth: Topwater
Environment: Freshwater & Saltwater
Recommended Line: Sufix Fishing Line
Model Number    Body Length    Weight Treble Hooks
SW08                  3-1/8"                7/16 oz. Two No. 3
BB, BG, F, FSD, SDT colors only available in this model.
PRICES ARE BASED ON WHAT I PAY + 10% PER ITEM, SO PRICES MAY VARY FROM ORDER TO ORDER THANK YOU KEN