RAPALA SHADOW RAP SDR11 BN-BONE JERKBAIT 7/16 oz X 2-4 FEET DEPTH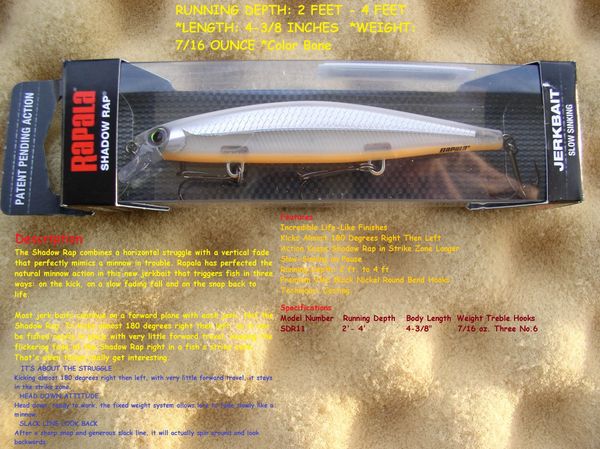 RAPALA SHADOW RAP SDR11 BN-BONE JERKBAIT 7/16 oz X 2-4 FEET DEPTH
RAPALA SHADOW RAP SDR11 BN-BONE JERKBAIT 7/16 oz X 2-4 FEET DEPTH
FOLLOW ME ON TWITTER 
Description:
The Shadow Rap combines a horizontal struggle with a vertical fade that perfectly mimics a minnow in trouble. Rapala has perfected the natural minnow action in this new jerkbait that triggers fish in three ways: on the kick, on a slow fading fall and on the snap back to life.  UPC:022677253831

Most jerk baits continue on a forward plane with each jerk. Not the Shadow Rap. It kicks almost 180 degrees right then left, so it can be fished nearly in place with very little forward travel, keeping the flickering fade of the Shadow Rap right in a fish's strike zone. That's when things really get interesting.

IT'S ABOUT THE STRUGGLE
Kicking almost 180 degrees right then left, with very little forward travel, it stays in the strike zone.

HEAD DOWN ATTITUDE
Head down, ready to work, the fixed weight system allows lure to fade slowly like a minnow.

SLACK LINE LOOK BACK
After a sharp snap and generous slack line, it will actually spin around and look backwards.

Spring Jerkbait Fishing: Beginner and Advanced Tips!  
Features
Incredible Life-Like Finishes
Kicks Almost 180 Degrees Right Then Left
Action Keeps Shadow Rap in Strike Zone Longer
Slow-Sinking on Pause
Running Depth: 2 ft. to 4 ft.
Premium VMC Black Nickel Round Bend Hooks
Technique: Casting

Specifications
Model Number    Running Depth    Body Length    Weight    Treble Hooks
SDR11    2'- 4'    4-3/8"    7/16 oz.    Three No. 6
Remember FREE Shipping on orders of $25 or more!