RAPALA SCATTER RAP SERIES (SHAD) FEATURES THE SCATTER LIP ONE TOUGH LURE 5-8ft X 1/4oz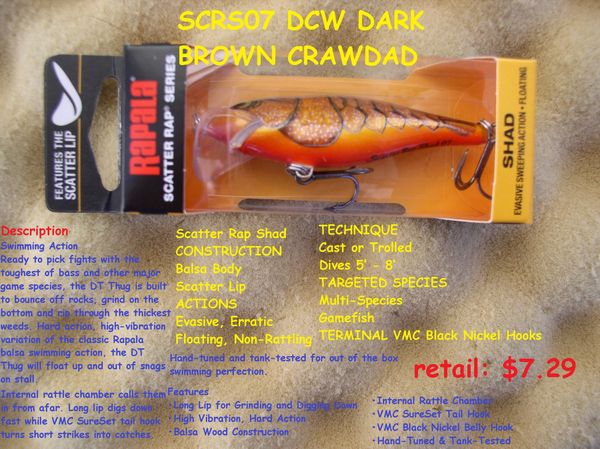 RAPALA SCATTER RAP SERIES (SHAD) FEATURES THE SCATTER LIP ONE TOUGH LURE 5-8ft X 1/4oz
RAPALA SCATTER RAP SERIES (SHAD) FEATURES THE SCATTER LIP ONE TOUGH LURE 5-8ft X 1/4oz

Description
Swimming Action
Ready to pick fights with the toughest of bass and other major game species, the DT Thug is built to bounce off rocks, grind on the bottom and rip through the thickest weeds. Hard action, high-vibration variation of the classic Rapala balsa swimming action, the DT Thug will float up and out of snags on stall.

Internal rattle chamber calls them in from afar. Long lip digs down fast while VMC Sure Set tail hook turns short strikes into catches. Hand-tuned and tank-tested for out of the box swimming perfection.
UPC:022677225968

Features
•Long Lip for Grinding and Digging Down
•High Vibration, Hard Action
•Balsa Wood Construction
•Internal Rattle Chamber
•VMC Sure Set Tail Hook
•VMC Black Nickel Belly Hook
•Hand-Tuned & Tank-Tested
retail: $7.29

Remember FREE Shipping on orders of $25 or more!