RAPALA ORIGINAL FLOATING MINNOW MADE OF BALSA F18 YP-YELLOW PERCH GREAT TROLLING LURE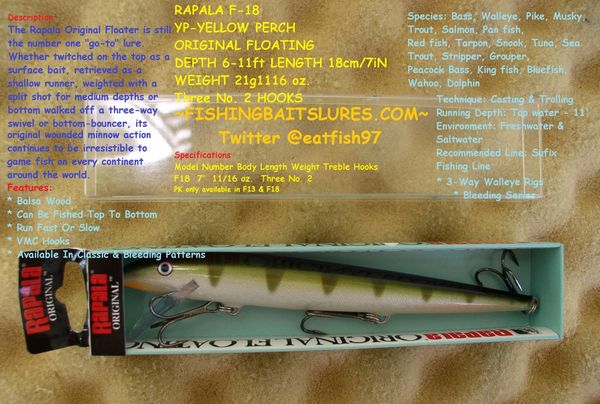 RAPALA ORIGINAL FLOATING MINNOW MADE OF BALSA F18 YP-YELLOW PERCH GREAT TROLLING LURE
RAPALA ORIGINAL FLOATING MINNOW MADE OF BALSA F18 YP-YELLOW PERCH GREAT TROLLING LURE
Description
The Rapala Original Floater is still the number one "go-to" lure. Whether twitched on the top as a surface bait, retrieved as a shallow runner, weighted with a split shot for medium depths or bottom walked off a three-way swivel or bottom-bouncer, its original wounded minnow action continues to be irresistible to game fish on every continent around the world.
UPC:022677157320
Features:
* Balsa Wood
* Can Be Fished Top To Bottom
* Run Fast Or Slow
* VMC Hooks
* Available In Classic & Bleeding Patterns
Species: Bass, Walleye, Pike, Musky, Trout, Salmon, Pan fish, Red fish, Tarpon, Snook, Tuna, Sea Trout, Stripper, Grouper, Peacock Bass, King fish, Bluefish, Wahoo, Dolphin
Technique: Casting & Trolling
Running Depth: Top water - 11'
Environment: Freshwater & Saltwater
Recommended Line: Sufix Fishing Line

    * 3-Way Walleye Rigs
    * Bleeding Series

Specifications
Model Number    Body Length    Weight       Hooks Size

F18                      7"                      11/16 oz.    Three No. 2    PK only available in F13 & F18
Remember FREE Shipping on orders of $25 or more!