RAPALA JSR-4 BABY BASS JOINTED SHAD RAP RATTLIN / SUSPENDING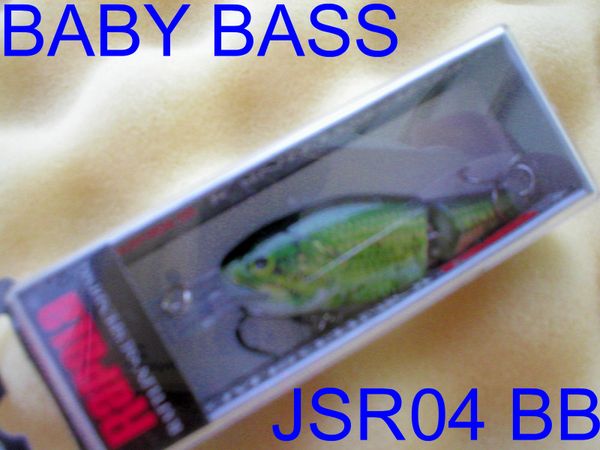 RAPALA JSR-4 BABY BASS JOINTED SHAD RAP RATTLIN / SUSPENDING
RAPALA JSR-4 BABY BASS JOINTED SHAD RAP RATTLIN / SUSPENDING

Description
Wide swimming jointed action with a loud rhythmic rattle mimics and exaggerates the action of a wounded bait fish. Suspending on pause just like the real thing, it is just too much for even the wariest fish to resist. Lightweight and durable plastic body construction enhance the action. Right out of the box it swims with perfection due to hand-tuning and tank-testing. VMC black nickel hooks for quick, sure penetration.

UPC:022677084657
Features:
Wide Swimming Action
Suspending
Rhythmic Rattle
Lightweight & Durable Plastic Body
Quick Diving Lip Design
VMC Black Nickel Hooks
Hand Tuned & Tank Tested

Species: Bass, Walleye, Pike, Musky, Trout,
Salmon, Pan fish, Red fish, Tarpon, Snook, Tuna,
Sea Trout, Stripper, Grouper, Peacock Bass,
King fish, Bluefish, Wahoo, Dolphin
Technique: Casting & Trolling
Environment: Freshwater & Saltwater
Recommended Line: Sufix Fishing Line

Specifications

JSR04: 1.5" long, 3/16 oz
JSR05: 2" long, 1/4 oz
JSR07: 2.75" long, 7/16 oz
Remember FREE Shipping on orders of $25 or more!