RAPALA HUSKY JERK SUSPENDING RATTLIN THE ORIGINAL FINNISH MINNOW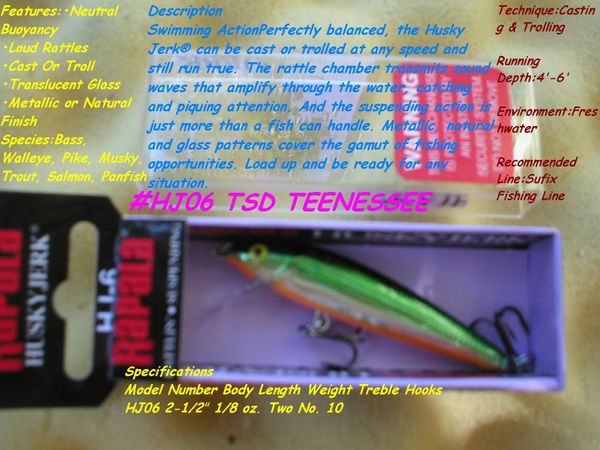 RAPALA HUSKY JERK SUSPENDING RATTLIN THE ORIGINAL FINNISH MINNOW
RAPALA HUSKY JERK SUSPENDING RATTLIN THE ORIGINAL FINNISH MINNOW
Description
Perfectly balanced, the Husky Jerk can be cast or trolled at any speed and still run true. The rattle chamber transmits sound waves that amplify through the water, catching and piquing attention. And the suspending action is just more than a fish can handle. Metallic, natural and glass patterns cover the gamut of fishing opportunities. Load up and be ready for any situation.
UPC:022677004174, UPC:022677255606, UPC:022677143811, UPC:022677085975, UPC:022677116648, UPC:022677086002, UPC:022677116686, UPC:022677004020, UPC:022677004051, UPC:022677006024, UPC:022677001678, UPC:022677086064, UPC:022677006048, UPC:022677001609, UPC:022677086033, UPC:022677001357, UPC:022677181035, UPC:022677181042, UPC:022677001654

Features: Neutral Buoyancy
•Loud Rattles
•Cast Or Troll
•Translucent Glass
•Metallic or Natural Finish
Species:Bass, Walleye, Pike, Musky, Trout, Salmon, Pan fish

Technique:Casting & Trolling
Running Depth:4' - 8'
Environment:Freshwater
Recommended Line:Sufix Fishing Line

Specifications
Model Number Body Length Weight Treble Hooks
HJ06 2-1/2" 1/8 oz. Two No. 10
HJ08 3-1/8" 1/4 oz. Two No. 6
HJ10 4" 3/8 oz. Two No. 5
HJ12 4-3/4" 7/16 oz. Three No. 5
HJ14 5-1/2" 5/8 oz. Three No. 4

Remember FREE Shipping on orders of $25 or more!