RAPALA GLASS FAT RAP RATTLIN #GFR07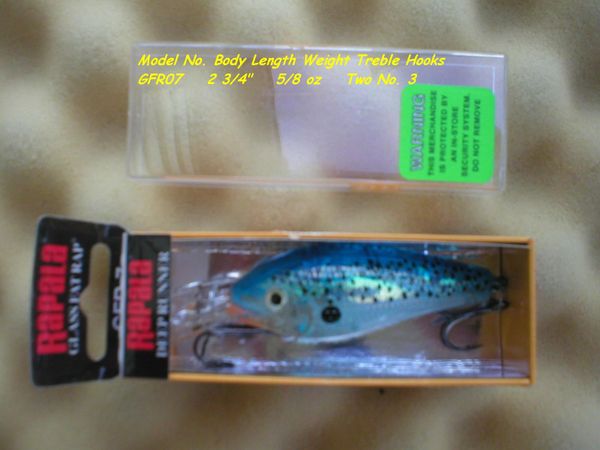 RAPALA GLASS FAT RAP RATTLIN #GFR07
RAPALA GLASS FAT RAP RATTLIN #GFR07
Glass Fat Rap
Description:
Swimming Action
With a similar body shape and action to the long-standing Fat Rap, the plastic Glass Fat Rap applies technology that allows creation of a prismatic "glass" 3-dimensional lure acting like a light magnet, even at deep depths. It picks up the color of the surroundings and bounces it back. The original "square lip" crankbait features strike-triggering rattles. UPC:022677115436, UPC:022677115412
Features:
* Original Fat Rap Square Lip
* See-Through Glass Body
* Rattle Deep Diving
* VMC Black Nickel Pyramid Point Hooks
* Holographic Eyes
* Hand Tuned & Tank Tested
MORE SHAD RAPS FROM LAND OF LURES  
Species: Bass, Walleye, Pike, Musky, Trout, Salmon, Panfish
Technique: Casting & Trolling
Running Depth: 7' - 9'
7cm 2 3/4in 18g 5/8oz
Environment: Freshwater
Recommended Line: Sufix Fishing Line
Remember FREE Shipping on orders of $25 or more!