RAPALA DTFAT03 NATURAL BALSA ACTION WIDE BODY LONG CASTING SQUARE SHAPE LIP (DISCO SHAD)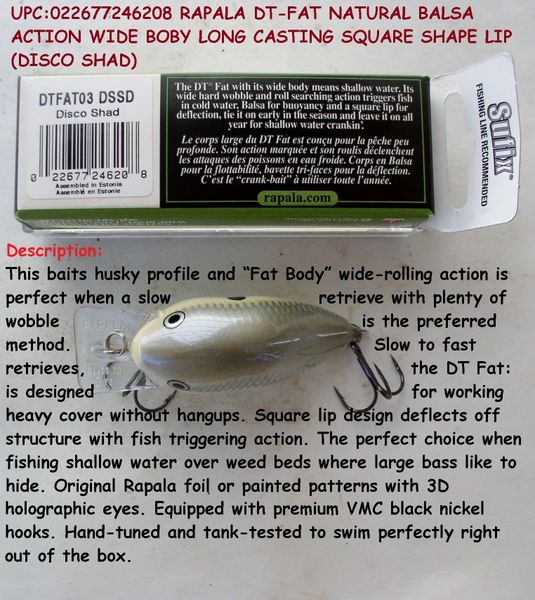 RAPALA DTFAT03 NATURAL BALSA ACTION WIDE BODY LONG CASTING SQUARE SHAPE LIP (DISCO SHAD)
RAPALA DTFAT03 NATURAL BALSA ACTION WIDE BODY LONG CASTING SQUARE SHAPE LIP (DISCO SHAD)

Description:
This baits husky profile and "Fat Body" wide-rolling action is perfect when a slow retrieve with plenty of wobble is the preferred method. Slow to fast retrieves, the DT Fat: is designed for working heavy cover without hangups. Square lip design deflects off structure with fish triggering action. The perfect choice when fishing shallow water over weed beds where large bass like to hide. Original Rapala foil or painted patterns with 3D holographic eyes. Equipped with premium VMC black nickel hooks. Hand-tuned and tank-tested to swim perfectly right out of the box.

Throw your fat around with the first fat body DT from Rapala. Other crankbaits fear heavy cover, but the aggressive wobble and square lip of the new DT Fat plow through cover while rooting out the hawgs. Its balsa construction and husky profile create a wide rolling action.  UPC:022677246208

Specifications:
* Balsa Wood Construction
* 3D Holographics Eyes
* Fat "Wide Body Shape"
* Wide Rolling Action
* Internal Rattle
* Square Swimming Lip
* Hand Tuned & Tank Tested

Targeted Species: Bass & Multi-Species Gamefish
Terminal Tackle - VMC Black Nickel Round Bend Hooks
Technique: Casting
Running Depth: 1' - 3'
Environment: Freshwater
Recommended Line: Sufix Fishing Line

Remember FREE Shipping on orders of $25 or more!