RAPALA DOWN DEEP HUSKY JERK SUSPENDING ORIGINAL FINISH MINNOW FROM FINLAND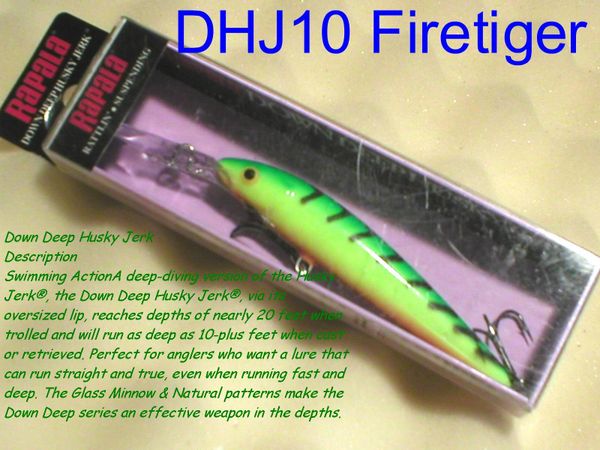 RAPALA DOWN DEEP HUSKY JERK SUSPENDING ORIGINAL FINISH MINNOW FROM FINLAND
RAPALA DOWN DEEP HUSKY JERK SUSPENDING ORIGINAL FINISH MINNOW FROM FINLAND

Down Deep Husky Jerk
Description
Swimming Action deep-diving version of the Husky Jerk, the Down Deep Husky Jerk®, via its over sized lip, reaches depths of nearly 20 feet when trolled and will run as deep as 10-plus feet when cast or retrieved. Perfect for anglers who want a lure that can run straight and true, even when running fast and deep. The Glass Minnow & Natural patterns make the Down Deep series an effective weapon in the depths.
UPC:022677014890

Features:
•Deep Diving Lip
•A Natural For Walleye
•Suspending
•Runs Straight & True
•Long Casting
•Loud Rattles
Species:Bass, Walleye, Pike, Musky, Trout, Salmon, Pan fish
Technique:Casting & Trolling
Running Depth:7' - 19'
Environment:Freshwater
Recommended Line:Sufix Fishing Line
Specifications
Model Number Body Length Weight Treble Hooks
DHJ10 4" 3/8 oz. Two No. 5
DHJ12 4-3/4" 1/2 oz. Three No. 5

Remember FREE Shipping on orders of $25 or more!