RAPALA DEEP TAIL DANCER CRANK BAIT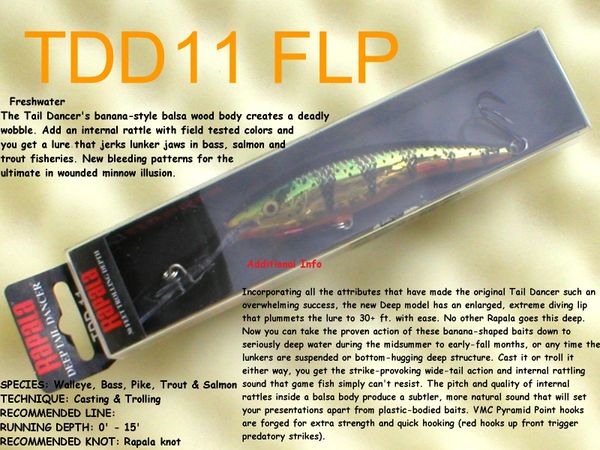 RAPALA DEEP TAIL DANCER CRANK BAIT
RAPALA DEEP TAIL DANCER CRANK BAIT RATTLIN WITH FLASH WIDE TAIL ACTION
FOLLOW ME ON TWITTER
Typically ships within 1 to 4 Hours!

 If you want size & color I do not have let me know and I will see if it's available thanks Ken
Freshwater 
The Tail Dancer's banana-style balsa wood body creates a deadly wobble. Add an internal rattle with field tested colors and you get a lure that jerks lunker jaws in bass, salmon and trout fisheries. New bleeding patterns for the ultimate in wounded minnow illusion.
This deep-diving banana-style body lure swims in a pronounced wide tail action without sacrificing the classic Rapala wounded-minnow attraction. The Deep Tail Dancer features an enlarged, extreme diving lip that plummets the lure as deep as 30 feet unassisted, getting this bait down where the big ones lie during the mid-summer and early fall months. Balsa wood lure with an internal rattle system, the Deep Tail Dancer features VMC black nickel treble hooks for quick piercing sharpness and the strength to withstand the fiercest battles. Hand-tuned and tank-tested, each lure swims perfect right out of the box.  UPC:022677115849, UPC:022677115818, UPC:022677115764, UPC:022677115832, UPC:022677094403, UPC:022677115825

SPECIES: Walleye, Bass, Pike, Trout & Salmon
TECHNIQUE: Casting & Trolling
RECOMMENDED LINE:
RUNNING DEPTH: 0' - 15'
RECOMMENDED KNOT: Rapala knot
Model No. Body Length Weight Treble Hooks
 TDD07 2 3/4" 5/16 oz Two No.5
 TDD09 3 1/2" 7/16 oz Two No. 3
 TDD11 4 3/8" 3/4 oz Two No. 3
PRICES ARE BASED ON WHAT I PAY + $0.50 PER ITEM, SO PRICES MAY VARY FROM ORDER TO ORDER THANK YOU KEN