RAPALA CLACKIN CRANK CNC-55 SQUARE LIP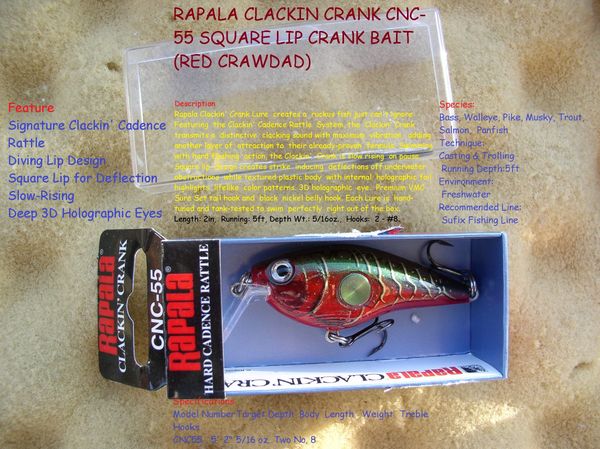 RAPALA CLACKIN CRANK CNC-55 SQUARE LIP
RAPALA CLACKIN CRANK CNC-55 SQUARE LIP
FOLLOW ME ON TWITTER 
Description
Rapala Clackin' Crank Lure creates a ruckus fish just can't ignore.  UPC:0022677177854, UPC:022677177823, UPC:022677192994, UPC:022677193021

Featuring the Clackin' Cadence Rattle 
How to use: Rapala Clackin' Crank https://youtu.be/evVWI6ZWfmA

System, the Clackin' Crank transmits a distinctive clacking sound with maximum vibration, adding another layer of attraction to their already-proven formula. Swimming with hard flashing action, the Clackin' Crank is slow rising on pause. Square lip design creates strike inducing deflections off underwater obstructions while textured plastic body with internal holographic foil highlights lifelike color patterns. 3D holographic eye. Premium VMC Sure Set tail hook and black nickel belly hook. Each Lure is hand-tuned and tank-tested to swim perfectly right out of the box.

Length: 2in, Running: 5', Depth Wt.: 5/16 oz., Hooks: 2 - #8.
Feature   
Signature Clackin' Cadence Rattle
Diving Lip Design
Square Lip for Deflection
Slow-Rising
Deep 3D Holographic Eyes
MORE SHALLOW 1-7ft FROM LAND OF LURES  
Species: Bass, Walleye, Pike, Musky, Trout, Salmon, Pan fish
Remember FREE Shipping on orders of $25 or more!