RAPALA BALSA EXTREME SERIES WALKING MINNOW FLOATING SLOW ROLLING ACTION LURE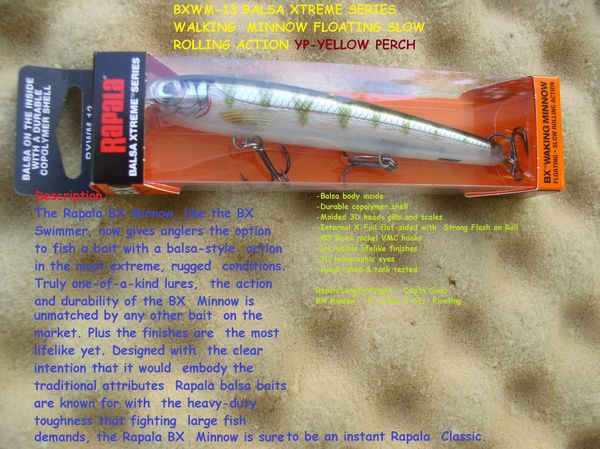 RAPALA BALSA EXTREME SERIES WALKING MINNOW FLOATING SLOW ROLLING ACTION LURE
RAPALA BALSA EXTREME SERIES WALKING MINNOW FLOATING SLOW ROLLING ACTION LURE
Description

The Rapala BX Minnow, like the BX Swimmer, now gives anglers the option to fish a bait with a balsa-style action in the most extreme, rugged conditions. Truly one-of-a-kind lures, the action and durability of the BX Minnow is unmatched by any other bait on the market. Plus the finishes are the most lifelike yet. Designed with the clear intention that it would embody the traditional attributes Rapala balsa baits are known for with the heavy-duty toughness that fighting large fish demands, the Rapala BX Minnow is sure to be an instant Rapala Classic. UPC:022677244723

-Balsa body inside
-Durable copolymer shell
-Molded 3D head, gills and scales
-Internal X-Foil flat-sided with Strong Flash on Roll
-#3 Black nickel VMC hooks
-Incredible lifelike finishes
-3D holographic eyes
-Hand tuned & tank tested

Rapala Length Weight Depth Class
BX Minnow 4" 3/8oz 3-5ft Floating
Remember FREE Shipping on orders of $25 or more!