POWER PRO SUPER 8 SLICK COLOR:MARINE BLUE 10 lb 150 YARDS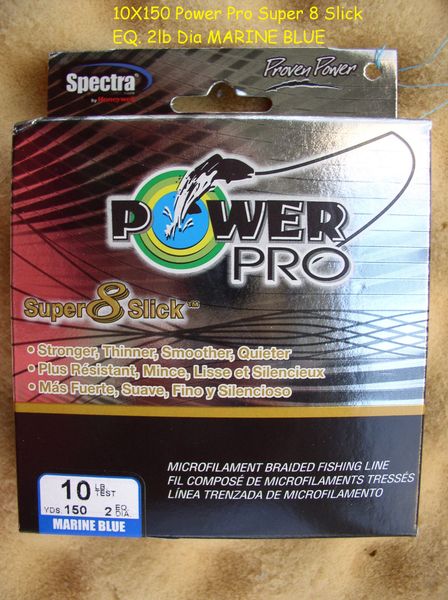 POWER PRO SUPER 8 SLICK COLOR:MARINE BLUE 10 lb 150 YARDS
POWER PRO SUPER 8 SLICK COLOR:MARINE BLUE 10 lb 150 YARDS
Description
Smooth as Silk: 8 yarn Spectra fiber construction braided under high tension to create a live surface that feels smooth as silk.

Cast like a Bullet: Reduced line friction on the spool and through the rod guides allows Super 8 Slick to cast like a bullet

Silent as Assassin: Smooth surface design reduces friction and line noise, allowing you to fish with stealth and silence

A unique high visibility line, Marine Blue is designed to allow the angler to clearly see their line on the surface of the water while providing stealth to the fish looking up from below. From saltwater to Western reservoirs to the clear glacial lakes of the North, this line is ideal for fishing clear water situations.
UPC:712649210138
Remember FREE Shipping on orders of $25 or more!