POWER PRO SUPER 8 SLICK 80lb X 150yds AQUA GREEN MICRO FILAMENT BRAID LINE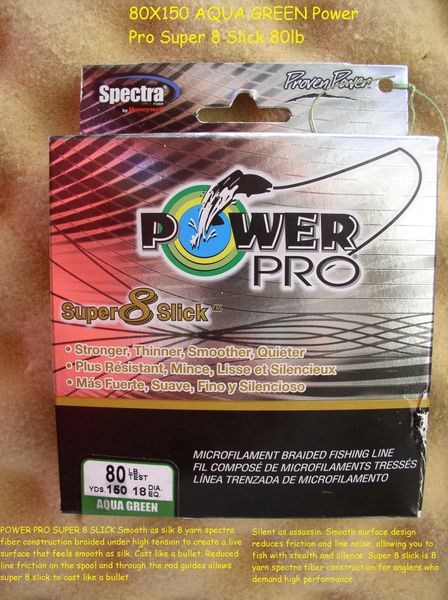 POWER PRO SUPER 8 SLICK 80lb X 150yds AQUA GREEN MICRO FILAMENT BRAID LINE
POWER PRO SUPER 8 SLICK 80lb X 150yds AQUA GREEN MICRO FILAMENT BRAID LINE

Description
POWER PRO SUPER 8 SLICK Smooth as silk 8 yarn spectra fiber construction braided under high tension to create a live surface that feels smooth as silk. Cast like a bullet. Reduced line friction on the spool and through the rod guides allows super 8 slick to cast like a bullet. UPC:712649210688

Silent as assassin. Smooth surface design reduces friction and line noise, allowing you to fish with stealth and silence. Super 8 slick is 8 yarn spectra fiber construction for anglers who demand high performance.

Power pro EBT (enhanced body technology) process creates a stronger, thinner, smoother and quieter line.
Remember FREE Shipping on orders of $25 or more!