POWER PRO MICRO FILAMENT BRAID LINE 30 LB X 300 YARDS VERMILION RED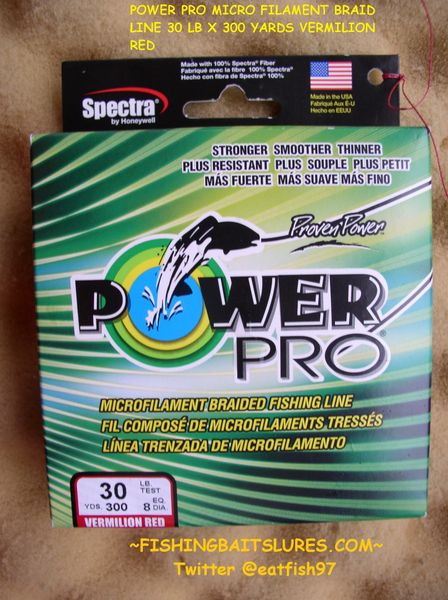 POWER PRO MICRO FILAMENT BRAID LINE 30 LB X 300 YARDS VERMILION RED
POWER PRO MICRO FILAMENT BRAID LINE 30 LB X 300 YARDS VERMILION RED

Description
Power Pro braided line in Vermilion Red fades to gray underwater and becomes nearly invisible below 14 feet, making it ideal for trolling and bottom fishing. It's crafted from braided Spectra fiber with Enhanced Body Technology for smooth, sensitive, easy handling on any reel.
Power Pro
Simply put, PowerPro is the ultimate combination of modern technology and old-fashioned fishing knowledge. We begin with ultra-strong braided Spectra Fiber, then use Enhanced Body Technology to create an incredibly round, smooth, and sensitive line.
UPC:712649204830
Power Pro set the bar for braided line and now with 8 premium options to choose from there is a Power Pro to cover any technique and fit any fishing situation.
Power Pro's unique composition and Enhanced Body Technology give you a line that is:
Structurally Superior
Reduces wind knots, backlashes, guide and rod tip wraps
Ties more easily and holds knots better
Nearly zero stretch
No reel memory
Spools and packs better on any reel
Has unbelievable strength-to-size ratio
Smoother and Slicker
Sails effortlessly through guides for longer casts
Won't cut guides
Resists abrasion
Long lasting
Won't bury in the spool
Remember FREE Shipping on orders of $25 or more!