Command Picture Hanging Kit, 3-Sawtooth Picture Hangers, 2-Wire-Backed Picture Hangers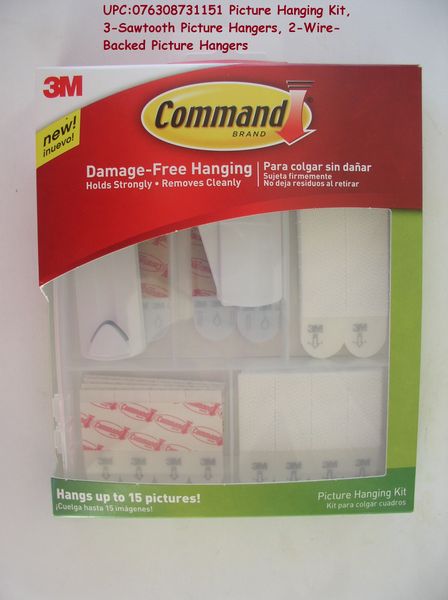 Command Picture Hanging Kit, 3-Sawtooth Picture Hangers, 2-Wire-Backed Picture Hangers
Picture Hanging Kit, 3-Sawtooth Picture Hangers, 2-Wire-Backed Picture Hangers
DESCRIPTION

Why settle for a strip when you can have the whole kit n' caboodle?
The convenient Commanda Picture Hanging Products in a reclosable kit for easy storage and organization. Handy strips ensure damage-free hanging. They hold on strongly, keeping your artwork right where you want it. Best of all, when you are ready to take down or move your pictures, they come off cleanly no nail holes or sticky residue. Contains three sawtooth picture hangers, two wire backed picture hangers, five large strips, four pairs of large picture hanging strips, eight pairs of small picture hanging strips and 16 poster strips. Kit is great for hanging a wide variety of framed pictures and posters. UPC:076308731151
Damage-Free Hanging
Holds strongly
Removes cleanly
Easy to apply
Easy to remove
Works on a variety of surfaces
Remember FREE Shipping on orders of $25 or more!