Picasso Special FX Shock Blade #21BN - Bluegill/Black Nickel Blade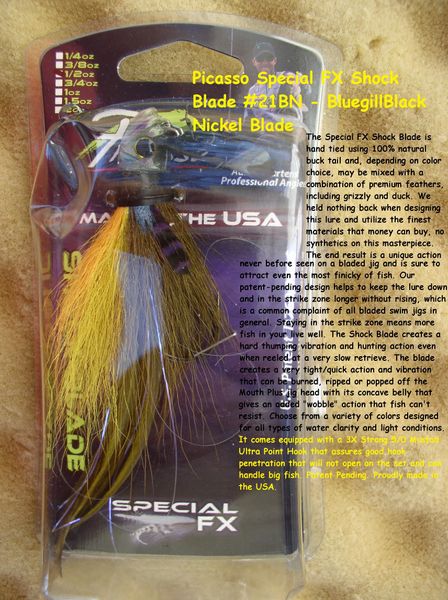 Picasso Special FX Shock Blade #21BN - Bluegill/Black Nickel Blade
Picasso Special FX Shock Blade #21BN - Bluegill/Black Nickel Blade

Description
The Special FX Shock Blade is hand tied using 100% natural buck tail and, depending on color choice, may be mixed with a combination of premium feathers, including grizzly and duck. We held nothing back when designing this lure and utilize the finest materials that money can buy, no synthetics on this masterpiece. The end result is a unique action never before seen on a bladed jig and is sure to attract even the most finicky of fish. Our patent-pending design helps to keep the lure down and in the strike zone longer without rising, which is a common complaint of all bladed swim jigs in general. Staying in the strike zone means more fish in your live well. The Shock Blade creates a hard thumping vibration and hunting action even when reeled at a very slow retrieve. The blade creates a very tight/quick action and vibration that can be burned, ripped or popped off the bottom. Constructed around our popular Smart Mouth Plus jig head with its concave belly that gives an added "wobble" action that fish can't resist. Choose from a variety of colors designed for all types of water clarity and light conditions. It comes equipped with a 3X Strong 5/0 Mustad Ultra Point Hook that assures good hook penetration that will not open on the set and can handle big fish. Patent Pending. Proudly made in the USA.

UPC:768690954842
1 per pack
Remember FREE Shipping on orders of $25 or more!