PELICAN MICRO CASE WITH CLEAR TOP 1060 - YELLOW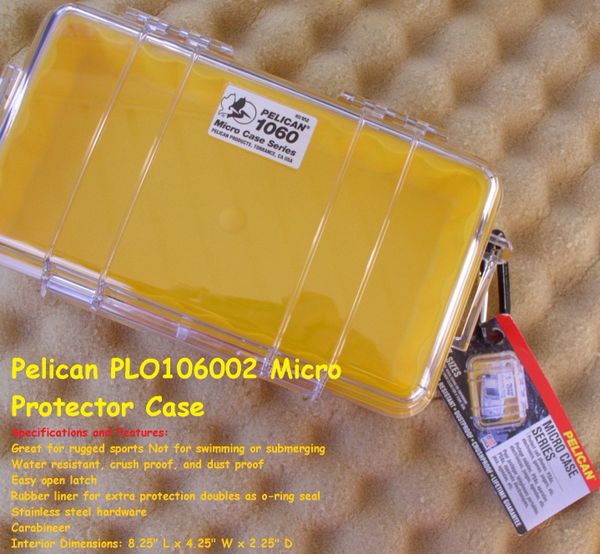 PELICAN MICRO CASE WITH CLEAR TOP 1060 - YELLOW
PELICAN MICRO CASE WITH CLEAR TOP 1060 - YELLOW
(Cell Phone Tackle Box)
Description:
The Pelican Micro Case 1060 with Clear Top is another great Pelican case that goes to show that smaller does not mean weaker. Carrying some of the same design features of Pelican's larger cases the Micro case is crush proof, dust proof, and has an automatic pressure purge valve. The Micro Case also includes a carabineer for quick and easy attachment or removal and a rubber liner to protect its contents from knocks and falls. Pelicans Micro Case Series are perfect for housing your cell phone, camera, Personal Digital Assistants (PDA), electronic games, pager, radio, and other valuable small items. Also because they are small sized so they can fit into luggage, bags, glove compartments, other Pelican Protector Cases, and the list goes on. UPC:019428084103
Features:
Great for rugged sports Not for swimming or submerging
Water resistant, crush proof, and dust proof
Easy open latch
Rubber liner for extra protection doubles as o-ring seal
Stainless steel hardware
Carabineer
Exterior Dimensions: 9.37" L x 5.56" W x 2.62" D
Interior Dimensions: 8.25" L x 4.25" W x 2.25" D
Item#: 20-PL-1060-027-100
Remember FREE Shipping on orders of $25 or more!