Panther Vision Pv-600 Flashlight 600 Lm Flat Design Waterproof Shockproof Cree X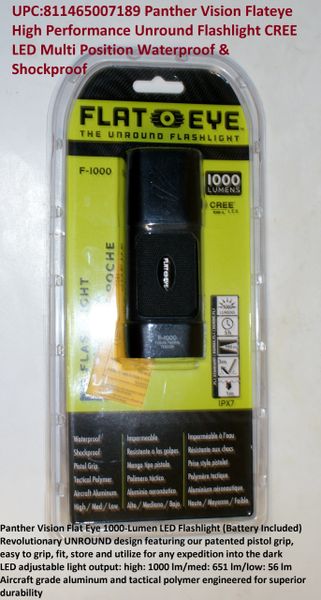 Panther Vision Pv-600 Flashlight 600 Lm Flat Design Waterproof Shockproof Cree X
Panther Vision Pv-600 Flashlight 600 Lm Flat Design Waterproof Shockproof Cree X
FOLLOW ME ON TWITTER 
Description

These waterproof and shockproof led 600 lumen flashlights are engineered to exacting standards and crafted from aircraft grade aluminum and tactical polymer for lasting durability. These flashlights with their unique pistol grip design, fit comfortably in your hand and fit easily in your pocket and will quickly become your favorite flashlight. Quad battery configuration: longer battery life with up to 5 hours on high and 10 hours on low.  UPC:811465006243, UPC:811465007189
mpn: pv-600

model: pv-600

Comes with a lanyard attach point to add your favorite lanyard. Brand: panther vision product featuresrevolutionary patent pending flat design: obsoletes the round flashlight, allowing you to carry it in a shirt or pants pocket comfortablypatent pending hyper-fin cooling technology: disperses heat from the led to prevent the flashlight from getting hot and extends led life 6062 aircraft aluminum and tactical polymer construction: extremely durable and shockproof to 3 meters (up to triple the competition)! Cree xm-l high performance leds: some of the brightest hand-held led technology in the marketplacewaterproof: sealed high/low tactile switch and o-ring sealed plugs make these flashlights waterproof to 1 meter terms of sale all of our products come with free standard shipping!
MORE FLASHLIGHTS FROM LAND OF LURES  
Panther Vision Flateye High Performance Unround Flashlight CREE LED Multi Position Waterproof & Shockproof
Panther Vision Flat Eye 1000-Lumen LED Flashlight (Battery Included)
Revolutionary UNROUND design featuring our patented pistol grip, easy to grip, fit, store and utilize for any expedition into the dark
LED adjustable light output: high: 1000 lm/med: 651 lm/low: 56 lm
Aircraft grade aluminum and tactical polymer engineered for superior durability
Remember FREE Shipping on orders of $25 or more!