P-Line Fluorocarbon Fishing Line Floroclear 300yd Pline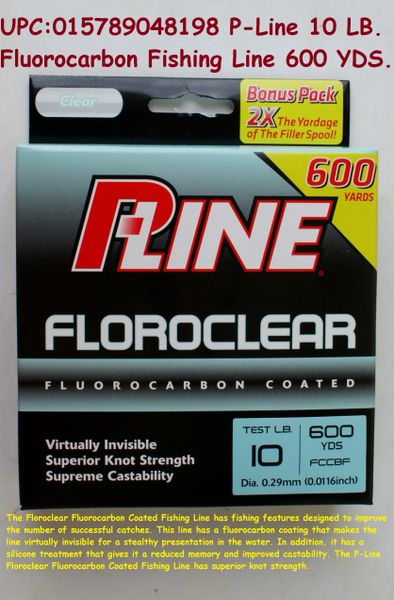 P-Line Fluorocarbon Fishing Line Floroclear 300yd Pline
P-Line Fluorocarbon Fishing Line Floroclear 300yd Pline
Description:
P-Line engineers have mixed Fluorocarbon and Co polymer technologies, it is treated with silicone during extrusion to reduce memory and increase cast-ability. Has excellent knot and tensile strength. UPC:015789650025, UPC:015789650049, UPC:015789650056, UPC:015789650063, UPC:015789650070, UPC:015789650087, UPC:015789650094, UPC:015789650117, UPC:015789046583, UPS:015789048198
Series: PLFLUOR
Size: YOU PICK
Color: One Color

MORE FISHING LINE FROM LAND OF LURES 
Manufacturer: P-Line
Model: FCCF
P-LINE TACTICAL FLUOROCARBON FISHING LINE 17 LB X 200 LB
Description:
P-Line Tactical Fluorocarbon Fishing Line 100% Pure Japanese Fluorocarbon! Your success as an angler depends on the tactical decisions you make long before you get to the water. You need every advantage possible to compete with the serious anglers of today and that starts with your line! Longer casts and extreme invisibility are just a few of the benefits you get when you spool P-Line Tactical Fluorocarbon. Because Tactical is derived using the latest in raw material and extrusion advancements you can head to the water knowing you're spooled with the strongest, most durable fluorocarbon available.  UPC:015789046583
P-Line Tactical Fluorocarbon Fishing Line  $26.99 - $41.99
Remember FREE Shipping on orders of $25 or more!