Owner 5163-131 Mutu Circle Hook, 3/0 Black Chrome XXX STRONG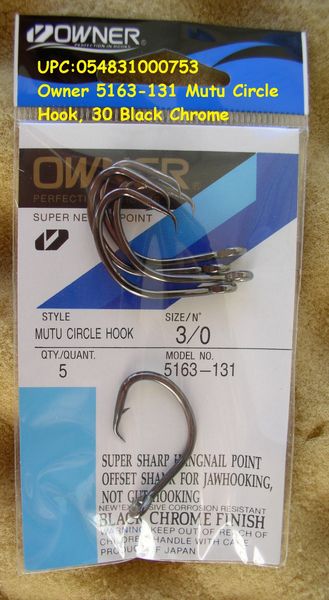 Owner 5163-131 Mutu Circle Hook, 3/0 Black Chrome XXX STRONG
Owner 5163-131 Mutu Circle Hook, 3/0 Black Chrome XXX STRONG
FOLLOW ME ON TWITTER
Typically ships within 1 to 4 Hours!
Description:

(GREAT FOR BIG #CATFISH)

Perfect for light tackle saltwater bait fishing. Lighter wire encourages live baits to swim more naturally. Hook design is great for catch-and-release. Features a super sharp, "hangnail" forged point and a corrosion-resistant black chrome finish.
UPC:054831000753, UPC:054831000746

SPECS: 5163-131 4-PK SIZE 3/0 XXX STRONG
SPECS: 5163-121 6-PK SIZE 2/0 XXX STRONG

PRICES ARE BASED ON WHAT I PAY + $0.50 PER ITEM, SO PRICES MAY VARY FROM ORDER TO ORDER THANK YOU KEN