OWNER #5115 Ssw With Super Needle Point Bait Hooks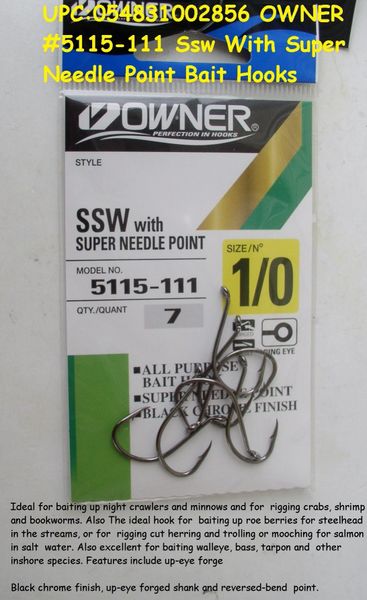 OWNER #5115 Ssw With Super Needle Point Bait Hooks
OWNER $5115 Ssw With Super Needle Point Bait Hooks
Typically ships within 1 to 4 Hours!
Ssw With Super Needle Point
Ideal for baiting up night crawlers and minnows and for rigging crabs, shrimp and bookworms. Also The ideal hook for baiting up roe berries for steel head in the streams, or for rigging cut herring and trolling or mooching for salmon in salt water. Also excellent for baiting walleye, bass, tarpon and other inshore species. Features include up-eye forge.
UPC:054831002870, UPC:054831002887, UPC:054831002894
MORE OWNER HOOKS FROM LAND OF LURES  
Black chrome finish, up-eye forged shank and reversed-bend point.
PRICES ARE BASED ON WHAT I PAY + $0.50 PER ITEM, SO PRICES MAY VARY FROM ORDER TO ORDER THANK YOU KEN