OWNER 5114T-111 1/0 TOURNAMENT MUTU LIGHT CIRCLE HOOKS QTY-7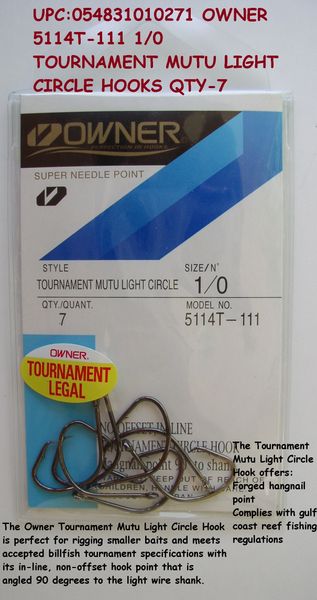 OWNER 5114T-111 1/0 TOURNAMENT MUTU LIGHT CIRCLE HOOKS QTY-7
OWNER 5114T-111 1/0 TOURNAMENT MUTU LIGHT CIRCLE HOOKS QTY-7
FOLLOW ME ON TWITTER
Typically ships within 1 to 4 Hours!
The Owner Tournament Mutu Light Circle Hook is perfect for rigging smaller baits and meets accepted billfish tournament specifications with its in-line, non-offset hook point that is angled 90 degrees to the light wire shank.
UPC:054831010271,
UPC:054831010295
These Red finish light wire circle hooks are ideal for freshwater and saltwater fishing. Light wire presents livelier action of your bait, and allows you to use larger hooks with lighter line. Hooks have hangnail points. The red finish adds extra attraction.
PRICES ARE BASED ON WHAT I PAY + 10% PER ITEM, SO PRICES MAY VARY FROM ORDER TO ORDER THANK YOU KEN