OSTRTCH CIGARETTE PACK HOLDER SKU:PHB-2836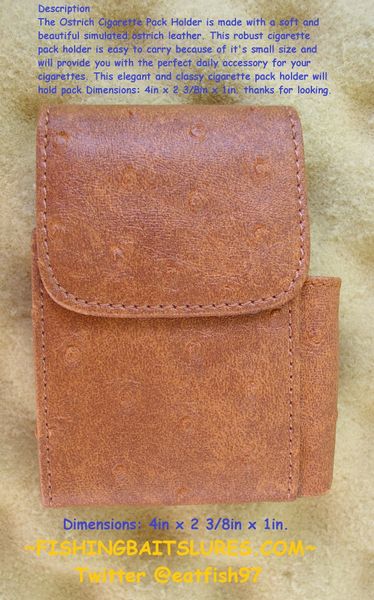 OSTRTCH CIGARETTE PACK HOLDER SKU:PHB-2836
OSTRTCH CIGARETTE PACK HOLDER SKU:PHB-2836

Description:

The Ostrich Cigarette Pack Holder is made with a soft and beautiful simulated ostrich leather. This robust cigarette pack holder is easy to carry because of it's small size and will provide you with the perfect daily accessory for your cigarettes. This elegant and classy cigarette pack holder will hold up to a 100's size cigarette box.
SKU:PHB-2836

Other Details
Cigarette Pack Size: Up to 100's
Out side dimensions: 4.25 x 2.75 x 1.25 in.
In side dimensions: 4in x 2 3/8in x 1in.
Remember FREE Shipping on orders of $25 or more!