OPTI-TACKLE COPPER WIRE 7-STRAND FISHING LINE 450yds X 45lb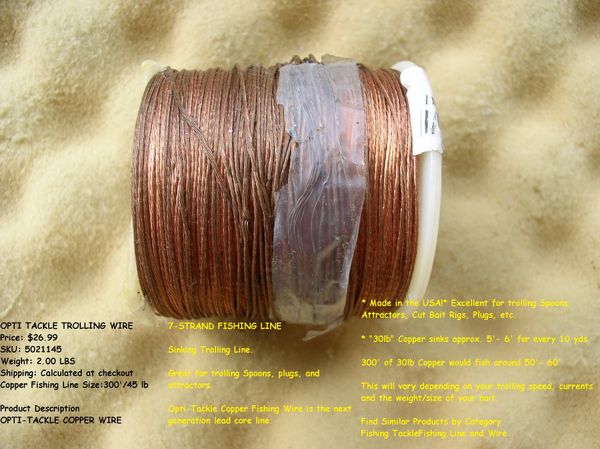 OPTI-TACKLE COPPER WIRE 7-STRAND FISHING LINE 450yds X 45lb
OPTI-TACKLE COPPER WIRE 7-STRAND FISHING LINE
 
DESCRIPTION
OPTI-TACKLE COPPER WIRE

7-STRAND FISHING LINE

Sinking Trolling Line.

Great for trolling Spoons, plugs, and attractors.

Opti-Tackle Copper Fishing Wire is the next generation lead core line.

* Made in the USA!* Excellent for trolling Spoons, Attractors, Cut Bait Rigs, Plugs, etc.

* "30lb" Copper sinks approx. 5'- 6' for every 10 yds

300' of 30lb Copper would fish around 50'- 60'

This will vary depending on your trolling speed, currents and the weight/size of your bait.