OLDHAMS WEEDLESS WIRE GUARD TUBE HEADS JIG HEADS HOOKS LURES 3/16oz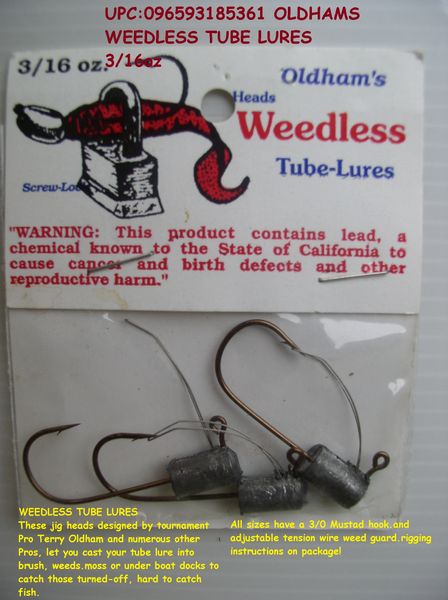 OLDHAMS WEEDLESS WIRE GUARD TUBE HEADS JIG HEADS HOOKS LURES 3/16oz
OLDHAMS WEEDLESS WIRE GUARD TUBE HEADS JIG HEADS HOOKS LURES 3/16oz
FOLLOW ME ON TWITTER 
Product Details
Oldham's Lures Weedless Tube Jig The Weedless Tube Jig Heads were designed by Tournament Pro Terry Oldham and numerous other Pros. These jigs have a cylinder shaped head for and easy but snug fit for your tubes. They also come equipped with an adjustable weed guard to allow you to fish in the heavy cover when the fish are hard to find. All sizes come with a 3/0 Mustad hook. 3 per pack.  UPC:096593185149, UPC:096593185187, UPC:096593185361
How To Rig:
Unhook weed guard, and bend it forward.
Insert into rear of tube lure, push the weed guard through the tube about an 1/8" from the front.
Continue pushing the jig towards the front and push the eyelet through the same hole as the weed guard.
Bend weed guard back and fasten it underneath the hook point (adjust the tension by bending the wire).
REPLACEMENT SKIRTS FROM LAND OF LURES  
Remember FREE Shipping on orders of $25 or more!