OLDHAMS WEEDLESS WIRE GUARD TUBE HEADS JIG HEADS HOOKS LURES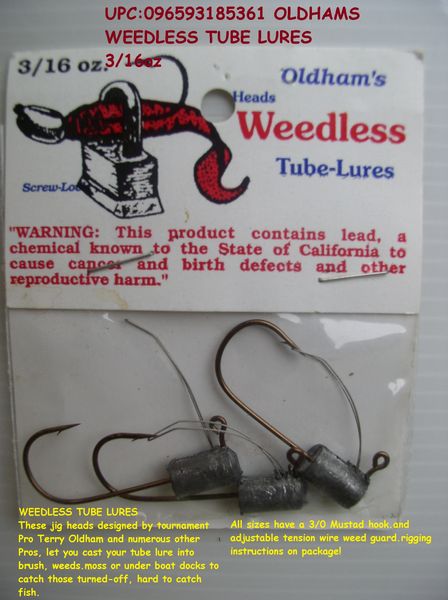 OLDHAMS WEEDLESS WIRE GUARD TUBE HEADS JIG HEADS HOOKS LURES
OLDHAMS WEEDLESS WIRE GUARD TUBE HEADS JIG HEADS HOOKS LURES
FOLLOW ME ON TWITTER 
Typically ships within 1 to 4 Hours!
Product Details
Oldham's Lures Weedless Tube Jig The Weedless Tube Jig Heads were designed by Tournament Pro Terry Oldham and numerous other Pros. These jigs have a cylinder shaped head for and easy but snug fit for your tubes. They also come equipped with an adjustable weed guard to allow you to fish in the heavy cover when the fish are hard to find. All sizes come with a 3/0 Mustad hook. 3 per pack.  UPC:096593185149, UPC:096593185187, UPC:096593185361, UPC:879020007197, UPC:879020007180, UPC:879020001133, UPC:879020007128, UPC:879020007159, UPC:879020007142, UPC:096593185316, UPC:810013861181
Jig Fishing: Anytime, Anywhere!

TRY THE OLDHAMS LURES FOOTBALL EYEBALL JIG 1 OUNCE
GITZIT FAT TUBE
How To Rig:
Unhook weed guard, and bend it forward.
Insert into rear of tube lure, push the weed guard through the tube about an 1/8" from the front.
Continue pushing the jig towards the front and push the eyelet through the same hole as the weed guard.
Bend weed guard back and fasten it underneath the hook point (adjust the tension by bending the wire).
Oldham's Screw-Lock Jig Heads
The 1/4 ounce head is a good choice for fishermen on deeper bays when they are trying to make their soft-plastics sink fast threw moving columns of water. UPC:096593649184, UPC:096593649146
REPLACEMENT SKIRTS FROM LAND OF LURES  
Z-man Power Finesse Shroomz Weedless Hooks
Description:
Equipped with the same signature mushroom-shaped head, welded wire keeper, and super strong 3/0 hook found on its non-weedless counterpart, the Power Finesse ShroomZ Weedless' dual multi-strand wire weedguard makes true snag-free fishing a reality. Its exposed hook point design enables improved hook-up ratios, making it an excellent substitute for a shaky-style jighead for ElaZtech baits and traditional soft plastics alike. These jigheads are perfectly sizes to pair with the Big TRD, but also match up well with a variety of other Z-Man plastics when conditions call for other worm or creature profiles.
MR CRAPPIE
Specifications and Features:
Adjustable, dual multi-strand wire weedguard for snag-free fishing
Same mushroom-shaped head, welded wire keeper, and 3/0 hook as Power Finesse ShroomZ
Unique welded wire keeper is easy to rig and holds ElaZtech baits securely
Excellent alternative to a shaky-style jighead for ElaZtech baits, as exposed hook point design provides improved hookup ratio and prevents bait from becoming misaligned after a strike

PRICES ARE BASED ON WHAT I PAY + 10% PER ITEM, SO PRICES MAY VARY FROM ORDER TO ORDER THANK YOU KEN
UPC751981170588 ZOOM #120-097 SALTY TUBE3.75 IN. ROOT BEER PEPPER GREEN